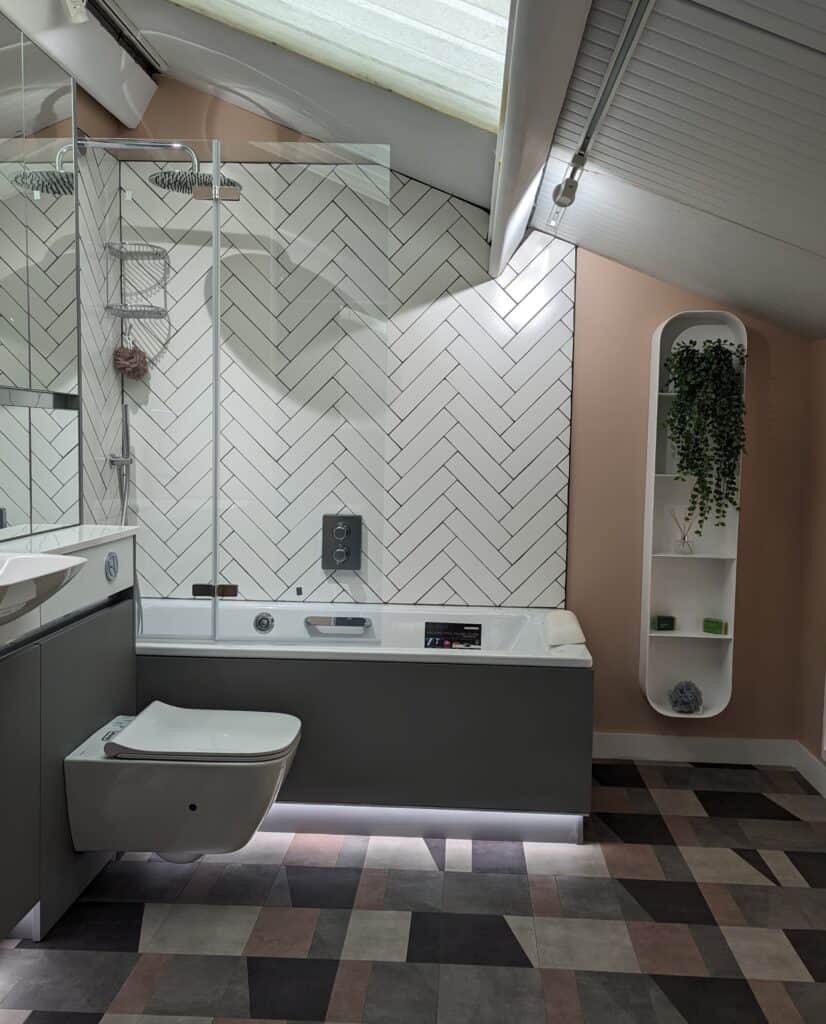 Shower
Elisa Rosa Dual Control Concealed Mixer
Elisa Wall fixed over head shower
Elisa Hand held shower
Basin
Utopia All in One basin work top (standard depth 350mm)
UT BASALL1LH/RH
Aqualla Matt Black Fuse Basin Tap
Aqualla F-BM-BL
Bath and Screen
Kaldewei Puro Star with Side Overflow Steel Enamel Bath 255800013
Furniture
Utopia Contemporary fitted furniture in Flat White/Flat Grey/Chrome Effect.
AllinOne Basin unit, WC unit, wall mounted mirror cabinet and double tall sit on mirror cabinet.
Contemporary fitted bath front and side panel in Flat Grey.
WC
Geberit Smyle Square wall hung. 500.208.01.1
Smyle Square WC Seat, slim design, sandwich shape 500.688.01.1
Furniture Cistern Frame for wall hung WC 111.207.00.2
Wall Tiles
Dune Flat white tile in herringbone pattern 187862
Accessories
Smedbo 2 tier shower basket (Discontinued)
Similar Option = DK2031
Flooring
Amtico – Edge laying pattern EP391
Encaustic Umber, Modernish Frame, Encaustic Mineral, Stucco Putty
Shelving Unit
Waters Baths of Ashbourne Curve Stone Unit (Discontinued)
About this page
This page was last updated: Oct 2023
If you are planning to visit to see this display, please call first to check we haven't updated or replaced the items you would like to see.