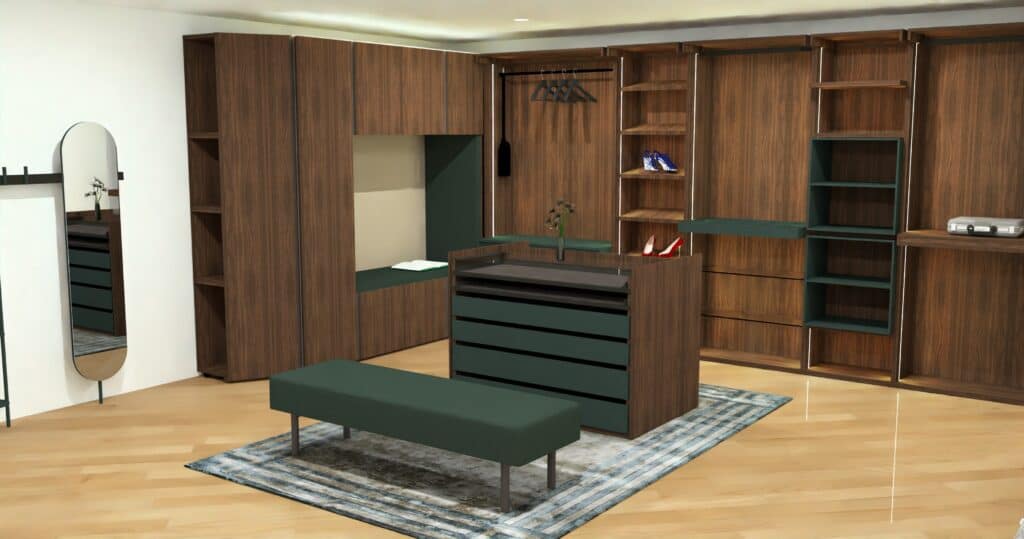 With remote working becoming more popular, it is no wonder that we are looking for new ways to organise and develop spaces to get the most of the places we call home.
With our new range of bedroom furniture, we can provide the opportunity to indulge in a little luxury. Take a look through our favourite features available for a luxury dressing room.
Our top 10 luxury dressing room features:
Full Length Riga Mirror and Shelf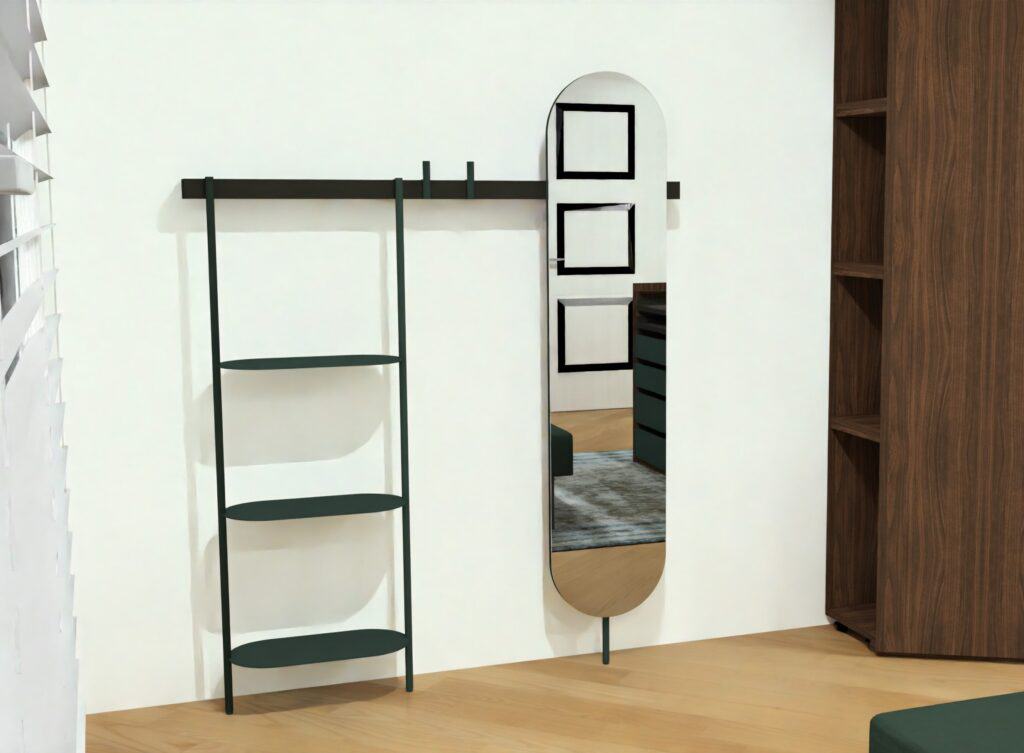 No dressing room is complete without a full length mirror. The Riga offers a unique ambience, with its capsule design, and the option to be finished in a variety of colours and materials. The Riga is supported by an elegant tray shelf, and with a variety of configurations available, the shelf is highly customisable. As well as paring ours with the full size mirror (available in two other sizes) we have also included display shelves, and coat hooks, to make those everyday items easy to reach.
Prices ranging from £410-£2500 Ex VAT
Shoe Rack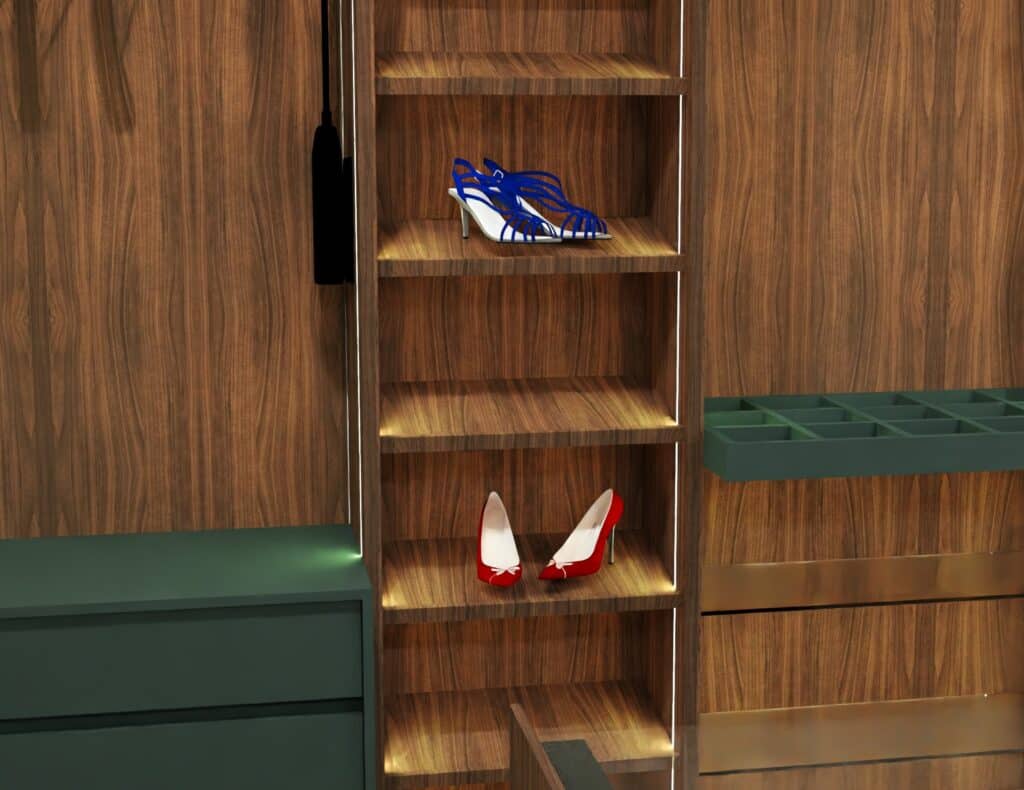 Every fashonista's dream starts with a walk-in wardrobe, but to extend that to include a cabinet perfect for storing all your shoes in a sophisticated way, that still allows easy access, makes the space even more indulging. With six easy access shelves per unit, ideal for shoes, accessories and so much more this showstopping addition to your walk in wardrobe is simply a must.
Prices ranging from £160-£950 Ex VAT
Dressing Table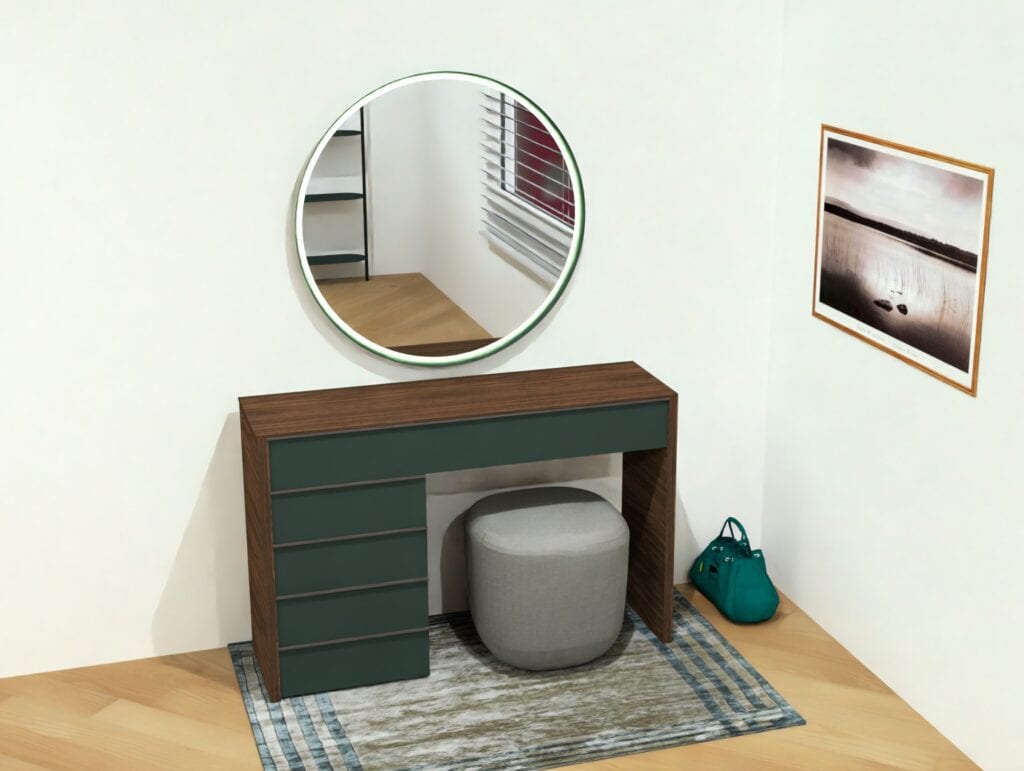 A key part to any dressing room, is a dressing table. The dressing table we have included in this space is fully bespoke, using several furniture items together, to create a singular unit with lots of storage for clutter free organisation. Paired with the Deep mirror with light, this dressing table is perfect for getting ready at any time of the day. We have added an Ottoman stool, to make the table easy to access, but not give a cluttered feel to the overall space of the room.
Prices ranging from £1905-£13,000 Ex VAT
Trouser Rack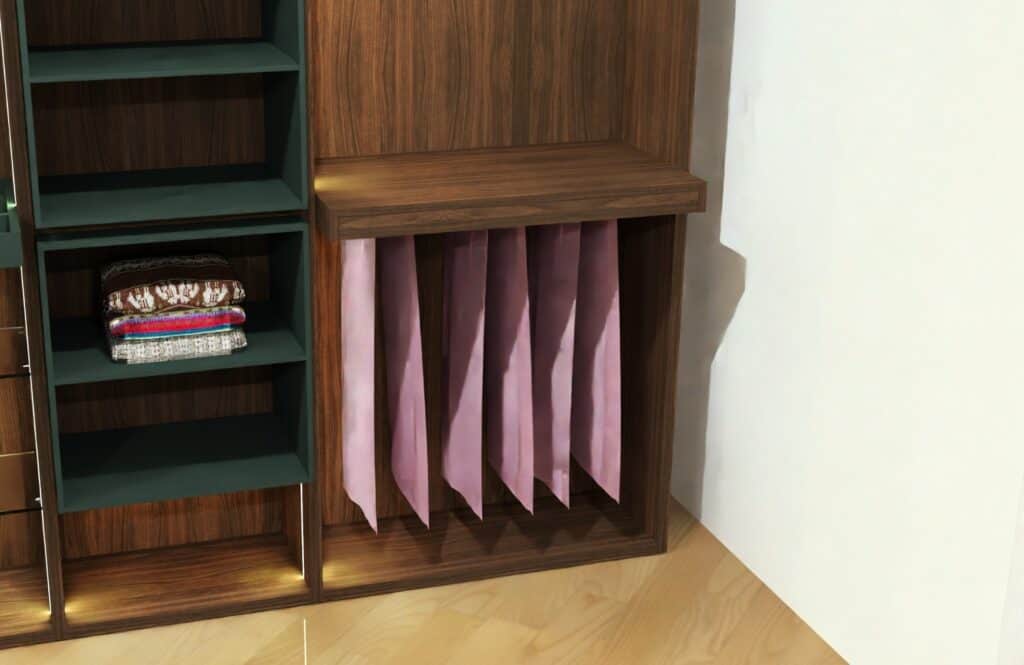 Another favourite of ours is the trouser rack, designed to keep trousers smartly hung, ready for everyday access. The rack has a unique pull out feature, to make the function more subtle, by sliding into a fold shelf. This creates another storage area, or a variation on a divider for the two sections of the wardrobe, beneficial for pairing outfits, or sectioning of work wear from everyday wear.
Prices ranging from £615-£2700 Ex VAT
Tie Tray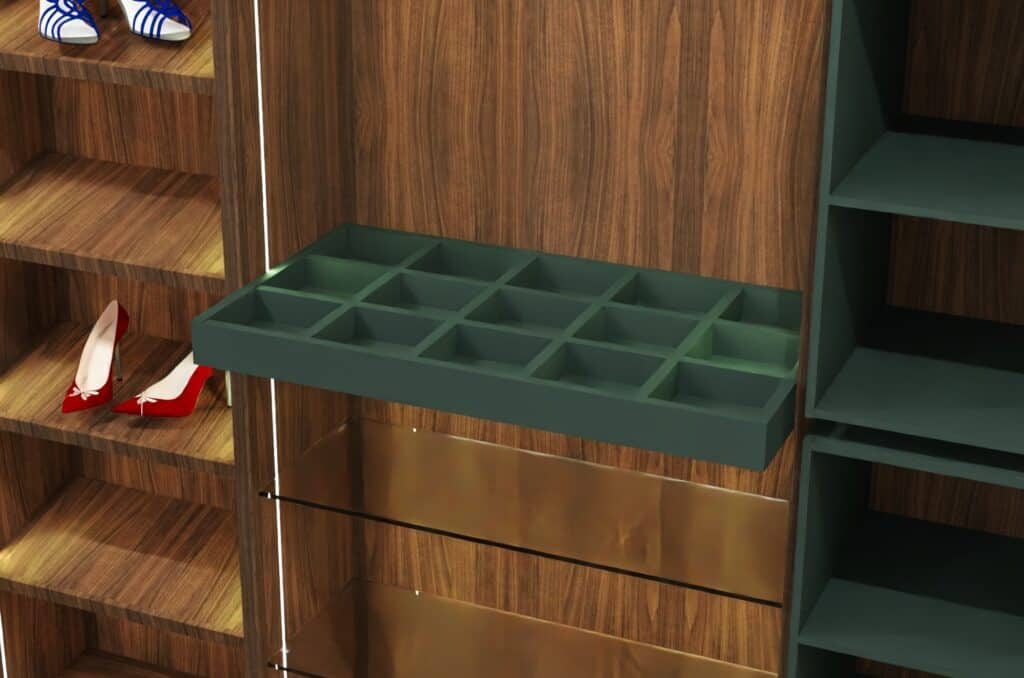 Adding more opportunity for accent colours, the tie tray provides an extra little organisation aid, with divisions within to separate each item, but allow an elegant display of items. We've added glass shelves below, with a simple fold shelf above, to truly accentuate the green here. Not just suitable for ties, this could be the ideal storage for watches, jewellery or even socks!
Price ranging from £750-£1375 Ex VAT
Clothes Lift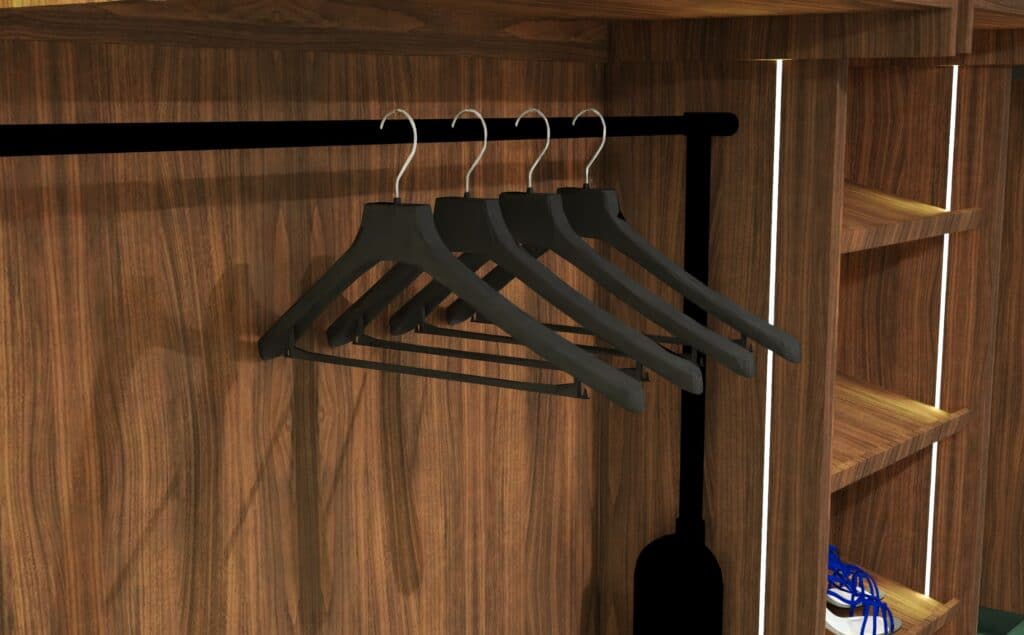 To add to the luxury of this space, we can offer an easy access clothes rail, with the option for a fitted motor, to make even the hard to reach areas, easy to reach, optimising every corner of the space. In an elegant black finish, this rail fits into the dressing room in a seamless way allowing it to remain purely functional, but not take away from the elegance of the room.
Prices ranging from £70-£6200 Ex VAT
Suspended Drawers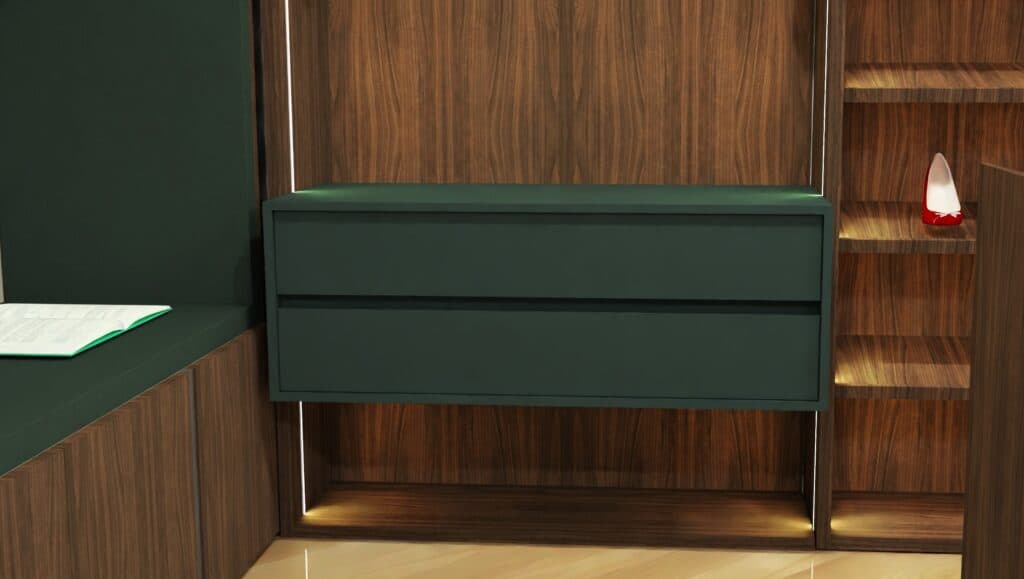 The option for both bench sitting and suspended drawers, is one of our favourite features of this new range. With the space to store in, above and below, the suspended drawers give a unique appeal to the dressing room. Both drawer varieties match, and so the combination of the two styles can be used to create a variety of storage.
Prices ranging from £275-£1875 Ex VAT
Island Chest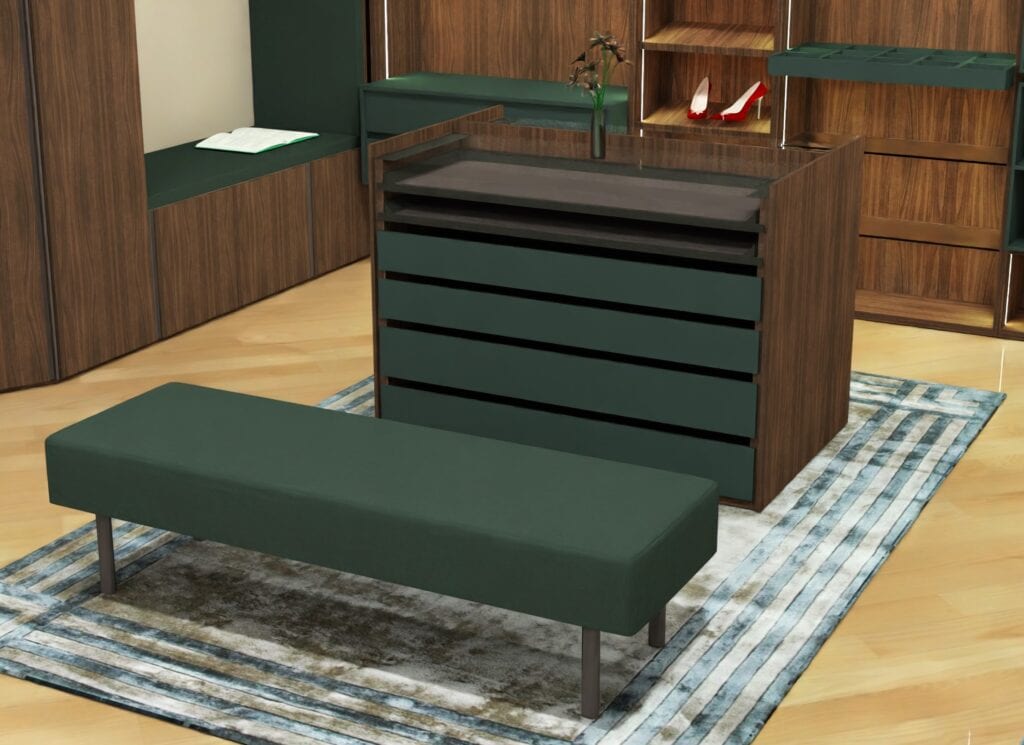 The entirety of this design focuses around the centre chest of drawers, creating a sophisticated island unit, in which it is possible to display elegant pieces of jewellery, visible through the glass worktop. The chest consists of drawers on one side and shelves on the other, creating a variety of useful space to allow for optimum access. Paired with the indulgent church bench, this creates an eye catching.
Price ranging from £5700-£13,200 Ex VAT
Maxi Portal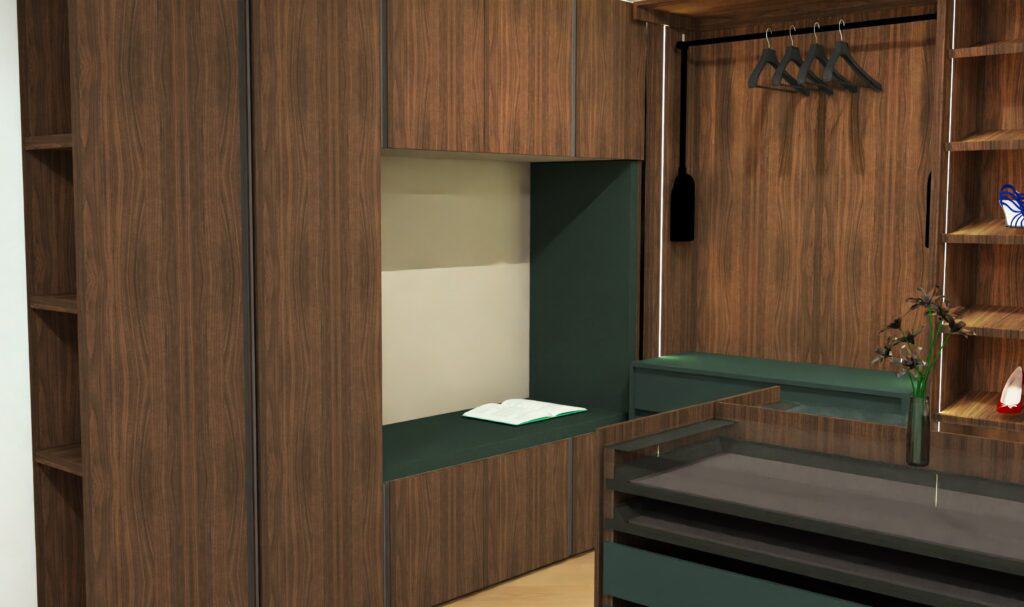 Having the luxury of a dressing room, also allows for a small sanctuary, within your home. The maxi portal provides a little seating nook, allowing you to pause and take in the relaxing atmosphere of your new luxury dressing room. The Maxi Portal is available with hidden shelves, to create a snug area in the dressing room, giving the space the ultimate 'wow' factor.
Prices ranging from £3700-£13,000 Ex VAT
Open Units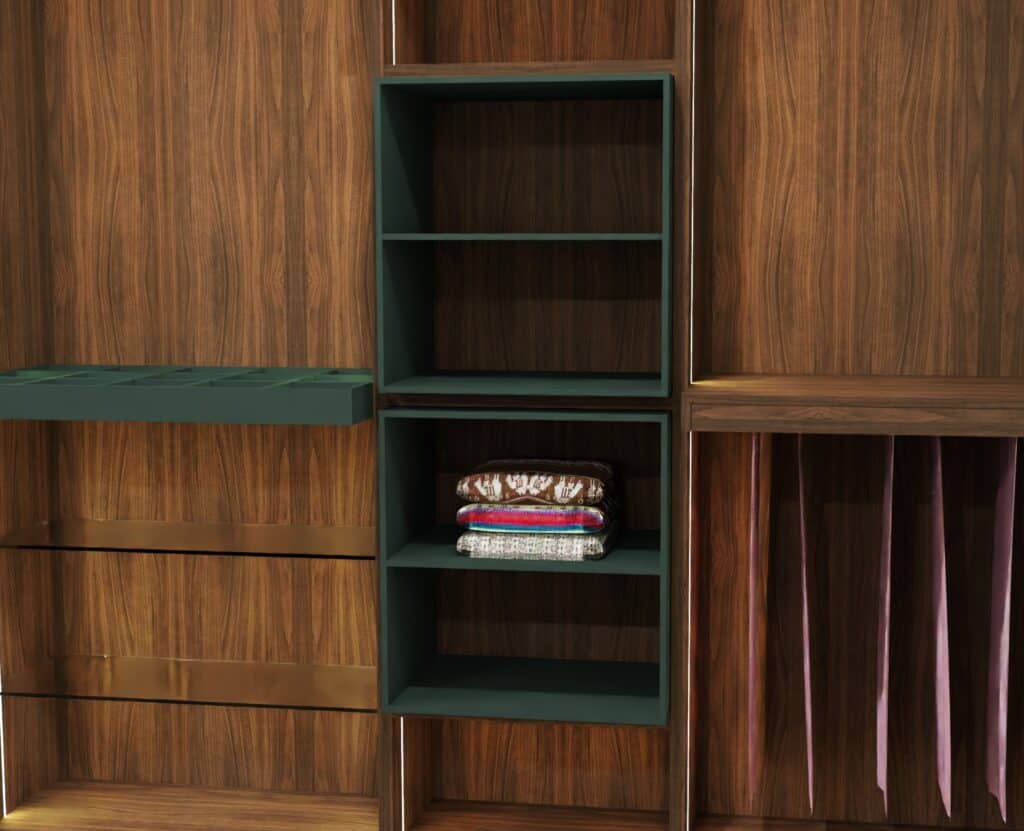 I personally find storing jumpers and winter accessories such as scarves difficult. However, the option of open shelves, makes this much more simpler, allowing seamless design, but adding a further opportunity for accentuating certain parts of the dressing room. The open shelves fit effortlessly into the modules, adding elegance alongside clutter free organisation.
Prices ranging from £970-£2375 Ex VAT