We know it can be quite daunting thinking about a new room when you've not done one before. Whilst we can only provide exact detailed pricing going through full design process we're really good at providing realistic estimates for your project and we don't charge for this service.
You need:
To visit our showroom.

It helps to call first and make an appointment otherwise the person you need to speak with may be serving other customers or out visiting current jobs.
Let us know you're looking for initial pricing
30 minutes to an hour depending on how long we talk

Details to bring with you to help us give you good initial estimates;

Photos of the current room (many customers show us photos they've taken on their phone and that works well)
Approximate dimensions (knowing that a wall is roughly 'three and a half metres' is sufficient)
Pictures of rooms and styles you like

You can use web sites like houzz or pinterest to find ideas.
The cost of a room is often only loosely connected to the styles you like and more directly related to the materials discussed

If there's something you've always wanted in your kitchen/bedroom/bathroom, start writing notes now so you remember to tell us and we include it within your budget
What you'll get from us: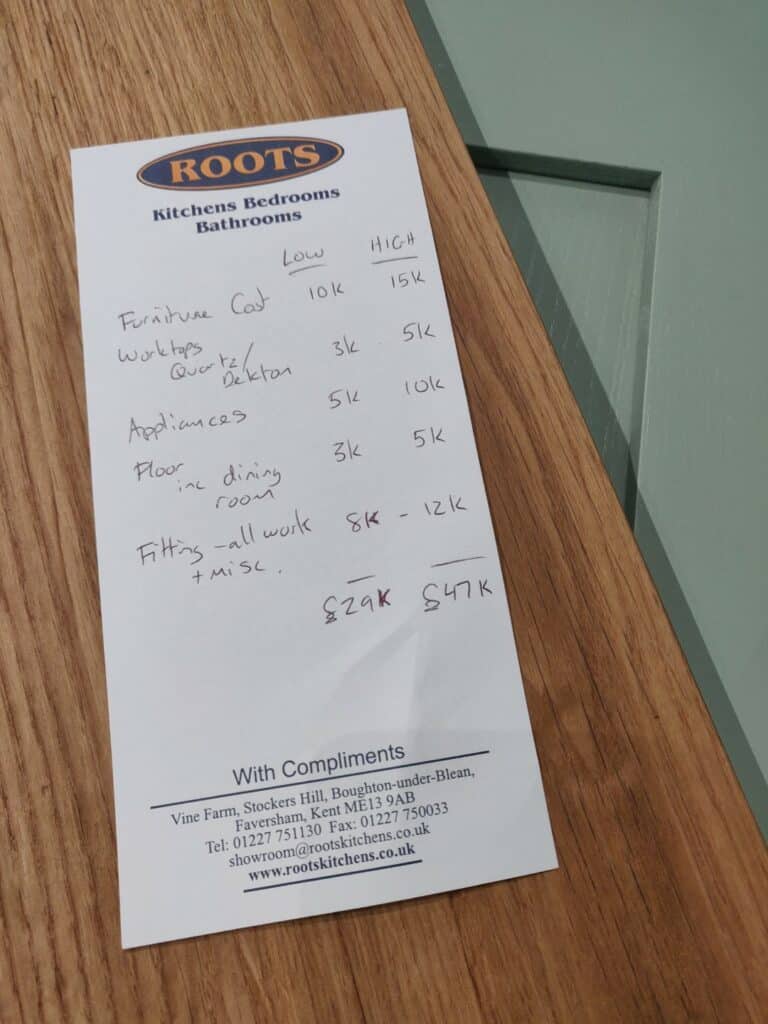 We'll talk through the steps needed to complete that room and estimate different elements and options
Some realistic estimates and some ideas you may not have considered.
Typically we'll be estimating high and low price ranges for the types of products you're considering and the associated work. In this example the ceiling lighting was covered within the appliance estimate and the cost of new boarding and plastering the ceiling was covered with fitting. The 'Removing wall option' was non-load bearing but also allowed for associated extra work that would involve.
What you won't get:
Plans, drawings and computer images (we won't have made any at this point!)
Things worth knowing:
We offer excellent value for money and peace of mind for complete projects but:
If the lowest possible price on the supply of specific products is what you're looking for, we are not the company to be talking to.
If you're renovating a home to sell or rent out, we are probably not the company to be talking to.