Hi. I'm Steve and if you're reading this then I'm guessing you live in a listed building and need to fit a new kitchen.
This page isn't linked through our normal site menus (you probably came from a google search or an advert) so now might be a good time to bookmark or save this page in your web browser so you can find it later.
Because you need something more than off the shelf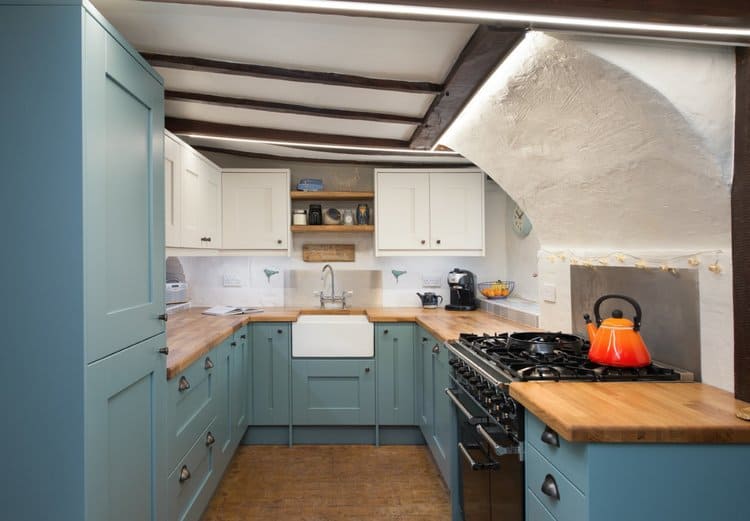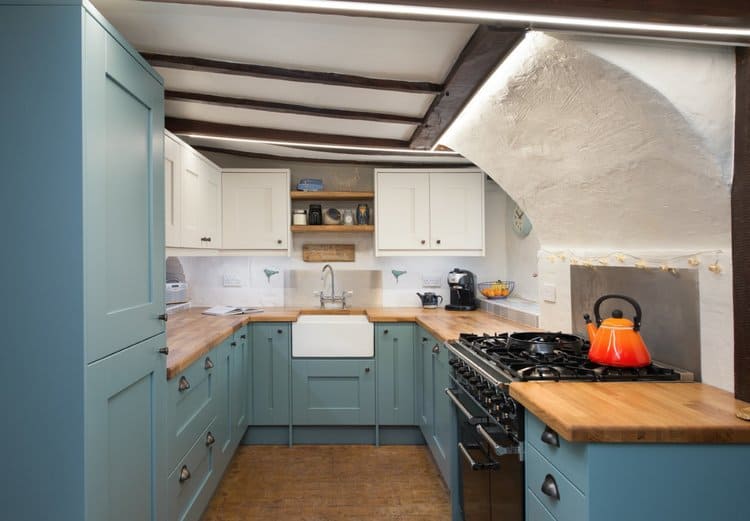 We know how it feels. Maybe you don't have a straight wall in the house, maybe your ceiling is so low you burn your head on the lights. Maybe you've no idea what's hidden behind the existing furniture, but honestly we know how of that feels. (By the way, I've just described the room in the picture and I'll show you some before pictures at the bottom of the page).
It's OK though. We can work with you to solve all of those challenges and for us at Roots finding solutions for this is an everyday occurrence and something we're good at. The process for you choosing a kitchen in a listed building is the same as a kitchen for every other one of our customers. First you visit our showroom, we talk about styles you like (modern or traditional can both work in a listed building). We're really good at giving rough estimates for a project for free. For a full design (which you get to keep if don't order from us, and if you do order from us we deduct from the total) we charge £360.
Are you still wondering about the cost? We find the fundamental cost of a kitchen in a listed building is similar to that in a modern building. With all work included (The cabinets, the appliances, the flooring, the decorating, the electrics, the blinds) a good budget, for a house you plan to stay in and enjoy for many years, is between £25,000 – £60,000. We know that's a wide range, which is why we recommend you visiting our showroom and we can talk through what you need and give you a better working estimate. The actual price varies a great deal by what you'd like to achieve. For example, in this kitchen you'll notice a traditional style bridge mixer tap, allow £300. Many of our customers now choose the luxury and convenience of a boiling water tap, allow £1400. Apply the same price difference for all of the other decisions you'll make (dishwasher, worktop, lighting, flooring, and so on) and you can quickly see why the same space can vary so much in price. We itemise prices as we go so you can make informed decisions through the process too.
---
A before photo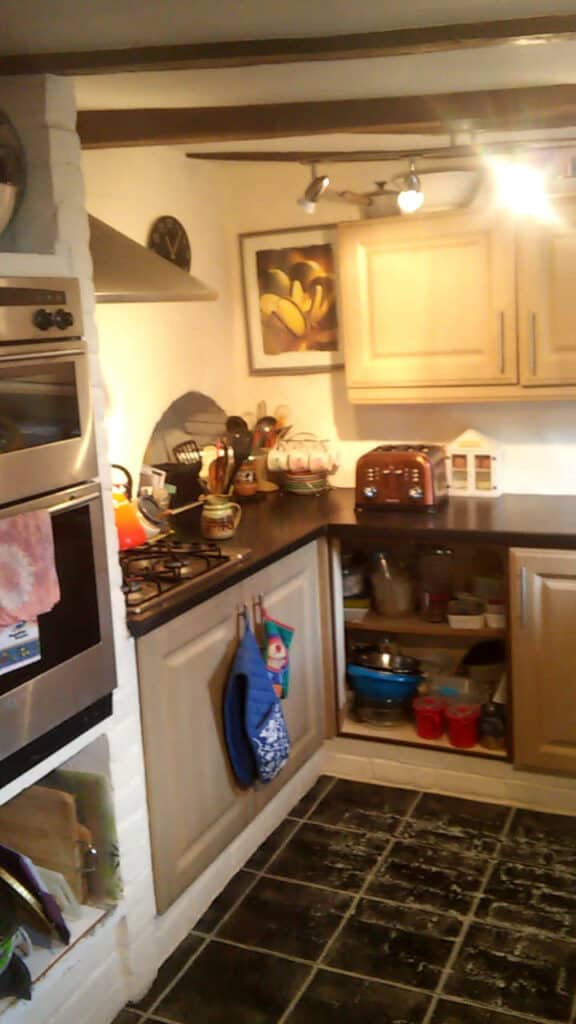 In hindsight we should have taken better before photos! I took this image from the video we take on our phones when we measure a room. Even in this small section of the room you can see some of the challenges a listed building can provide;
The brick built oven housing.
Whilst no longer in fashion we have to wonder if it hides anything. Is part of it load bearing?
The brick floor, visible through the old vinyl tiles
Brick floors are not uncommon in this age of property and we can be certain there is no damp proof membrane below them. This has an impact on which type of floor to select and how to install it. The vinyl tiles that covered it had sunk into the uneven brick surface and several were loose, probably due to the glue not liking the naturally damp underfloor.
The brick cabinet plinths?
These units weren't standing on cabinet legs but a brick wall. That's very unusual and also brings up the question of why this was done. Is it style or is it hiding something. We hoped that these were added on top of a fully brick tiled floor, that they would remove relatively easily and the original brick floor could be retained and refinished in some way. That worked out very well, but plan B dependant upon what we would find was a preselected new flooring. With listed buildings it pays to plan for multiple possibilities.
The ceiling lights
on an already low ceiling these central spot lights would burn your head when you stood under them and fail to illuminate any area you were working at with your body casting a shadow of the worksurface. In the new kitchen you may notice the thin LED strip lights. The aluminium profile is subtle, the high output LED gave a great overall light and we even obtained a special angle profile to wash the curved wall with light over the cooker.
The curvy wall
You may have already guessed that many years ago a large fireplace was situated here. The curve carried the weight of a fireplace above so couldn't be altered. Putting the range cooker below this is a compromise as there is no option for an extractor, however; a) the current extractor was rarely used b) the house is naturally well ventilated (which is to say you could see daylight through the exterior door). We had custom stainless steel splashbacks made to improve the cleanability behind the cooker, which brings me onto…
A lack of wall tiles
These walls are nowhere near straight and tiles just highlight that. If you look closely at the pictures you'll notice we've painted the walls in most areas, used a stainless steel splashback behind the cooker. We used some decorative tiles on the windowsill and also a serving hatch that you can just about see in the back left corner of the photos.
You've read a long way, I appreciate that. Just for you here's a link directly to this room in our houzz gallery where you'll discover several more images of the complete room, my brother David (who managed the job) and our customer's dog.
---
What next?
I hope you found this page useful. Please Visit our Showroom or Email us if you have any questions.
Thanks for your time,