At Roots we supply and install a lot of wall hung toilets, last year about half of the toilets chosen by customers were wall hung. Let's summarise the pros and cons.
Pros: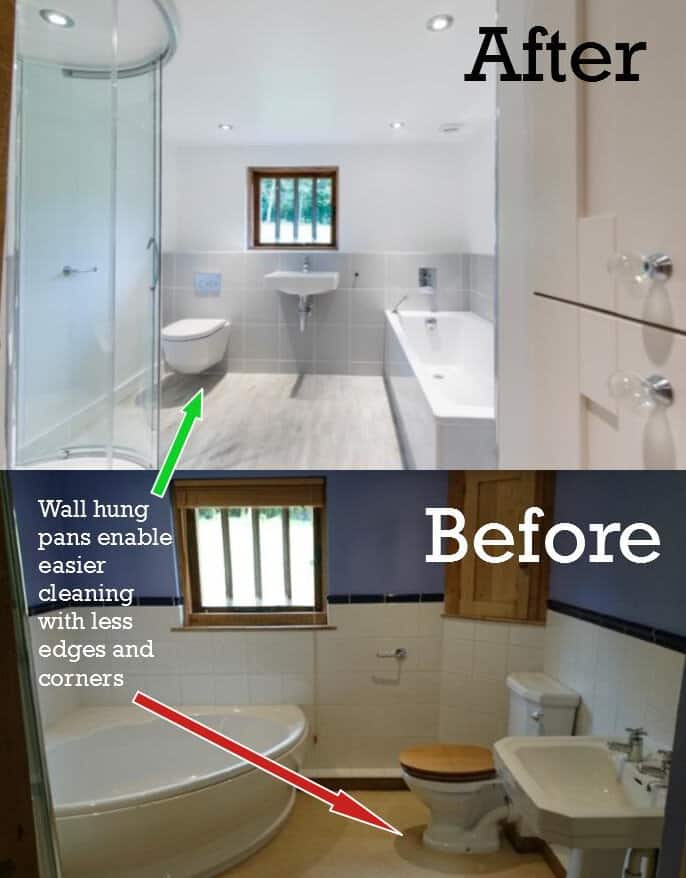 Cleaning – As the wall mounted pan is not touching the floor, the flooring material can continue uninterrupted to the walls. Moping and cleaning the floor becomes easier as there is no ceramic pan to clean around.
Hidden pipes – A wall mounted pan allows for easier concealment of the soil pipe as well as the supply pipes to the cistern. As well as looking nicer this also improves the ease of cleaning the room.
Raised pans for taller people – the frames we use are height adjustable. Whereas a floor standing WC is always the same height from seat to floor, for wall hung pans we are able to adjust the height to suit individual customers needs. For many customers that means the seat can be higher
Cons:
Cost – generally the cost of the frame and cistern that support the pan, plus the pan is higher than the cost of a close coupled toilet.
Neutrals:
Long term maintenance – Access to serviceable parts like washers is equal for both styles of toilet. For wall hung toilets the flush plates are designed to be removed allowing full access to the internal components.
An elephant in the room?:
Many customers worry about the pipe connections being hidden and the chance of future leaks. Before the frame and connections are covered the system is tested with water to ensure there are no leaks. Leaks after this point are as unlikely as leaks from joints anywhere else in the home, there are hundreds of pipe joint connections in your home under floor boards and in loft spaces and for these to fail is a rare occurrence. The connections into the Wall hung WC Frame are just as unlikely to fail in the future.
I hope that's a useful summary. As a small business we only work within East Kent, UK and you're welcome to visit, see our displays and ask more detailed questions. If you're outside our area of work and have questions please leave a comment and I'll do my best to reply with answers.
Steve Root