At Roots Kitchens Bedrooms Bathrooms we've been installing kitchens in Kent for 22 years and it's easy for us to take for granted the steps involved in fitting a kitchen. This post will take you through the various stages that apply to typical rooms.
1 – REMOVE THE EXISTING ROOM
This typically takes a day (we normally have 2 people working and sometimes a 3rd person taking away the waste). At Roots we take rubbish away as it's generated and sort it at our yard so don't have a skip outside of your home. Appliances and metals are separated and recycled directly and other waste is taken in skips from our yard for further sorting. Our waste provider guarantees none of our waste is going to landfill.
As well as remove existing furniture and appliances we may need to lift and remove flooring and remove tiles from walls. Where tiles are removed we have to remove any stubborn large pieces of tile adhesive.
Important: If you're planning on removing your own kitchen please think about your safety. The obvious things (not dropping cabinets on your foot) but also the hidden dangers like asbestos. Many artex ceilings contain asbestos and should not be removed without suitable protective clothing, masks and waste disposal.
2 – ROUTE NEW SERVICES
The next stage is to chase walls and floors to run new electric and plumbing supplies.
3 – PLASTERING
Most rooms we fit will need plastering. A good smooth finish of the things you can't see has a significant impact on the things you can. This is typically started on day 3 and if we're boarding and plastering a ceiling can be 2 or 3 days of work.
4 – LIGHTING
If we've been working on the ceiling we'll often arrange another electrical visit to install the ceiling lights – it helps for fitters to be able to see what they're doing!
5 – FLOORING
Now the room is plastered and supplies are in place it's often time to prepare the floor (Amtico) or prepare and lay the floor (Ceramic tiles). We always like to tile the whole floor so there are not gaps under cabinets. Having no gaps means that any future leaks will be visible sooner.
6 – CABINET AND APPLIANCE FITTING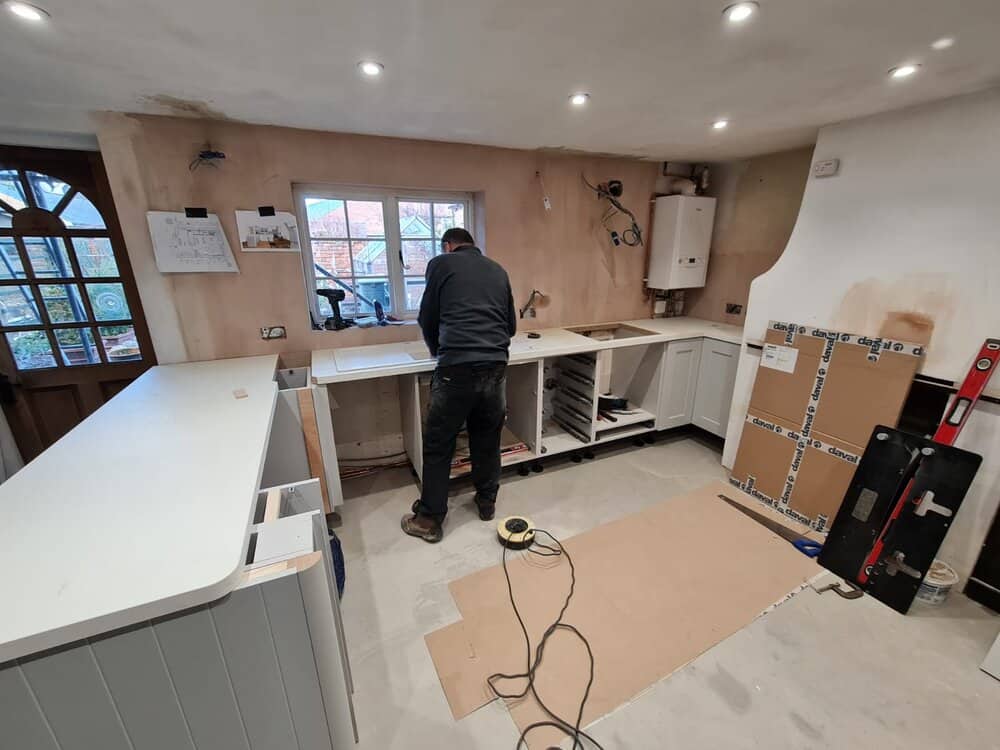 After the floor the cabinets can be fitted. This is the larges part of the job, often 7-9 days of carpentry in rooms we fit (although this varies according to the size of the room!) Appliances are also fitted although not connected to the power.
7 – WORKTOPS
Solid surface worktops need templating (templating means accurately measuring, sometimes using physical templates made from board, sometimes using laser measuring systems) so once the base cabinets are in we'll arrange for this. This often happens before all the carpentry is complete as solid surface worktops can take 2 weeks from templating before they can be installed.
9 – ELECTRICAL AND PLUMBING CONNECTIONS
With the worktops fitted the sink, taps and hob can be fitted and connected. Ovens and other appliances are normally connected and working by now too.
10 – WALL FINISHES
After the worktops are fitted the splashbacks can be fitted. These can be tiles, glass or other panel material. A popular option now is to use the same material as the worktop as an upstand and splashback behind the hob, in which case all that is left is the decorating.
HOW LONG WILL YOUR ROOM TAKE TO INSTALL?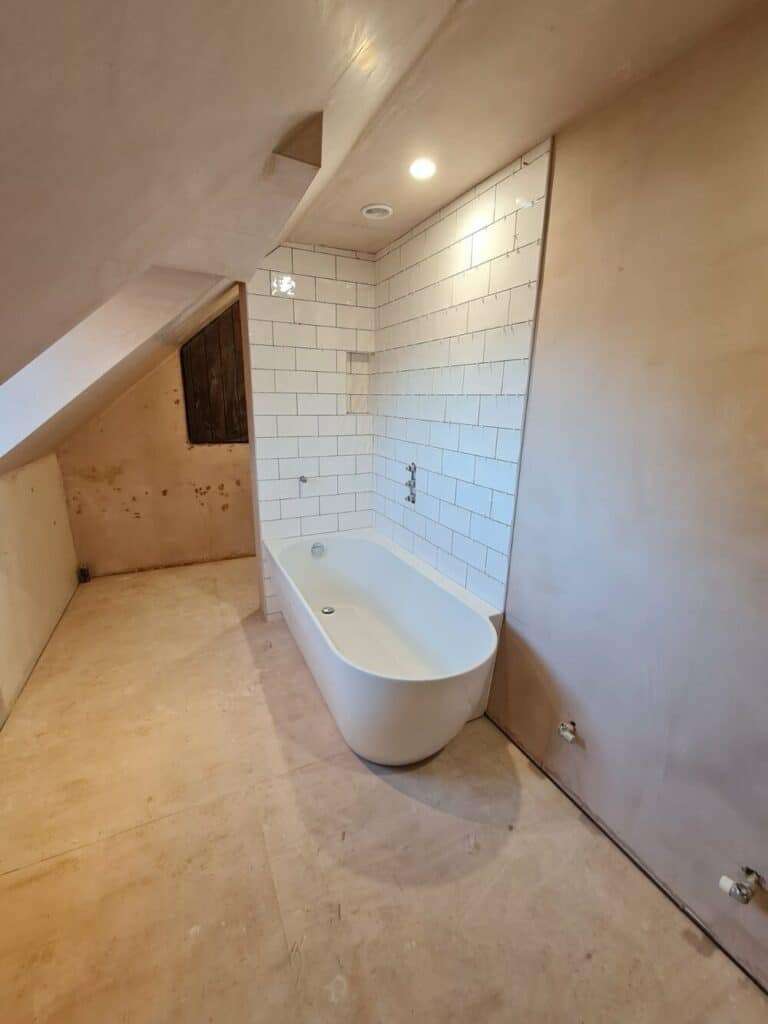 Every room is different but typically we find it takes 3 – 4 weeks to install a room from start to finish. Smaller rooms with laminate worktops are faster than larger rooms that need on site bespoke carpentry, but 3 – 4 weeks is a good average to plan for.