Short answer for busy people: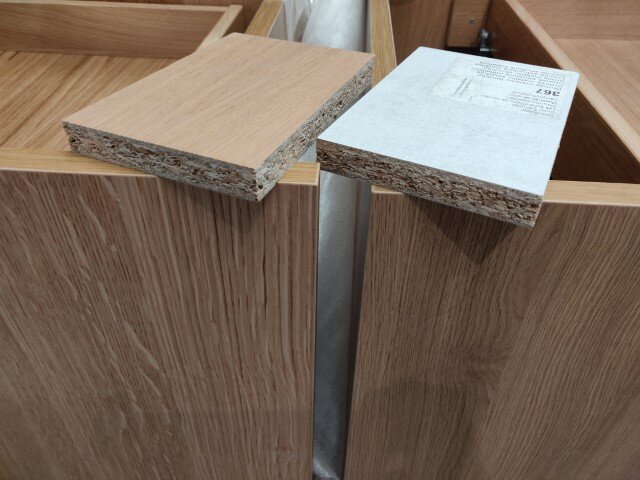 Most kitchen cupboards are made from chipboard.
(The doors for the cupboards are made from a wider variety of materials though)
A more detailed answer for the truly curious:
The majority of the kitchen cabinets sold in the UK are made from Melamine Faced Chipboard (MFC).
Chipboard, also known as particle board, is a panel made from small chips of wood that are glued together and compressed to form a panel. The panel is covered ('faced') with Melamine (specifically a decorative printed paper layer that is soaked in melamine resin then fixed to the chipboard)
Why is chipboard used for the majority of kitchen cupboards?
Stability. Chipboard does not change is size significantly compared to solid timber. This is useful when making cabinets as they are less likely to warp or twist with changes in temperature and humidity found in a normal room.
Durability. The melamine surface is water proof/resistant and easy to wipe clean. Note the panel core of chipboard is NOT water proof and should not be allowed to get wet! This means that spilt liquid on a shelf is easy to wipe off but care should be taken in areas where water could reach the edge of the panel. Whilst many of the panels we sell now have edge finishes with special glues designed to resist water damage MFC should never be expected to survive being wet.
Aesthetics. The decorative paper surface allows for a wide range of printed patterns. Todays printing technology can make it hard to identify between MFC and real timber panels from sight alone. As a manufactured finish it is also constant in colour between panels and batches. Natural timbers vary between trees and region (although this natural variation brings it's own beauty so this consistency is not always an advantage)
Cost. Manufactured MFC panels are less expensive than timber panels. The small chips effectively use more pieces of a tree that can be used to make solid panels.
Automation. The large, standardised, identical panels are easier to handle when factories are automated. Production machinery can handle panels 3m wide x 2m long, a size not available from timber panels.
What other materials are used?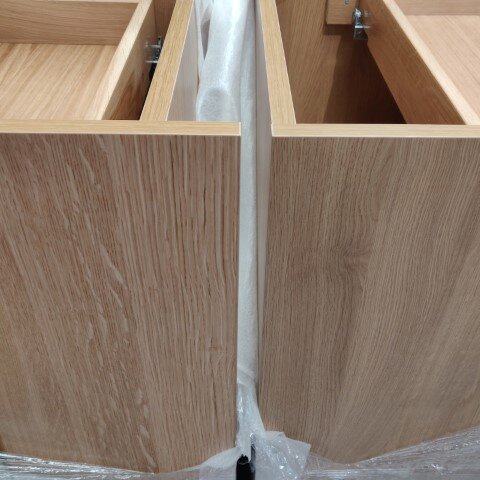 Solid timber. Every so often we see cabinets made from solid timber. They are often made at small workshops for one off rooms. For marketing everyone likes to say 'solid wood' but for a fitted kitchen where cabinets are fitted wall to wall, lack of allowance for the natural growth and contraction of timber cabinets can be a problem. This is not the case for free-standing cabinets of small furniture which are not tightly fitted into a space.
Veneer Chipboard. As well as melamine, chipboard can be covered in real wood veneer. This has the stability benefits of chipboard and the natural variations found in real wood. The veneer chipboard costs more than Melamine Faced Chipboard.
Plywood. We're starting to see more and more small manufacturers using plywood as a cabinet materials. Plywood generally costs more than MFC and needs a finishing surface (which can be varnish, paint or other finishes including melamine and other laminates). Plywood is structurally stronger than chipboard allowing for more flexibility in fixing and assembly. It is especially useful where modifications need to be made on site as less refinishing is needed on cut edges (the layered edge often being a feature of a plywood cabinet style).
Metal. There is a small area of the market using metal for cabinets. In food service and catering metal cabinets are durable and easy to vigorously clean with spray hoses if needed. Their cabinets are often free standing to allow kitchens to be reconfigured and deep cleaned periodically. The other panel products will also burn so all metal kitchens can be used where there is a known fire hazard and materials that burn, like timber, can therefore not be used. An example is products fitted within the London underground.
So that's the cupboard, but what about the door?
There's a much wider range of materials used to make the doors that go on kitchen cupboards. I'll write some more another day about those materials but here's a short list of materials we've used in the last few years for cabinet doors
MFC (just like the cupboard material!)
MDF (Medium Density Fibreboard, needs coatings to protect from moisture and other damage, often lacquers and paints)
Timber (painted and varnished, solid and veneer panels)
Glass, coloured or mirrored (sometimes directly bonded to hinges, sometimes fixed to MFC or MDF panels)
Vinyl (A plastic like surface wrap of MDF panels)
Acrylic
One we haven't been asked for a long time – stainless steel
A new one we haven't yet tried – Dekton, a ceramic surface covering normally used for worktops but now available in 4mm thicknesses so it can be glued to an MFC panel and used as a door finish.