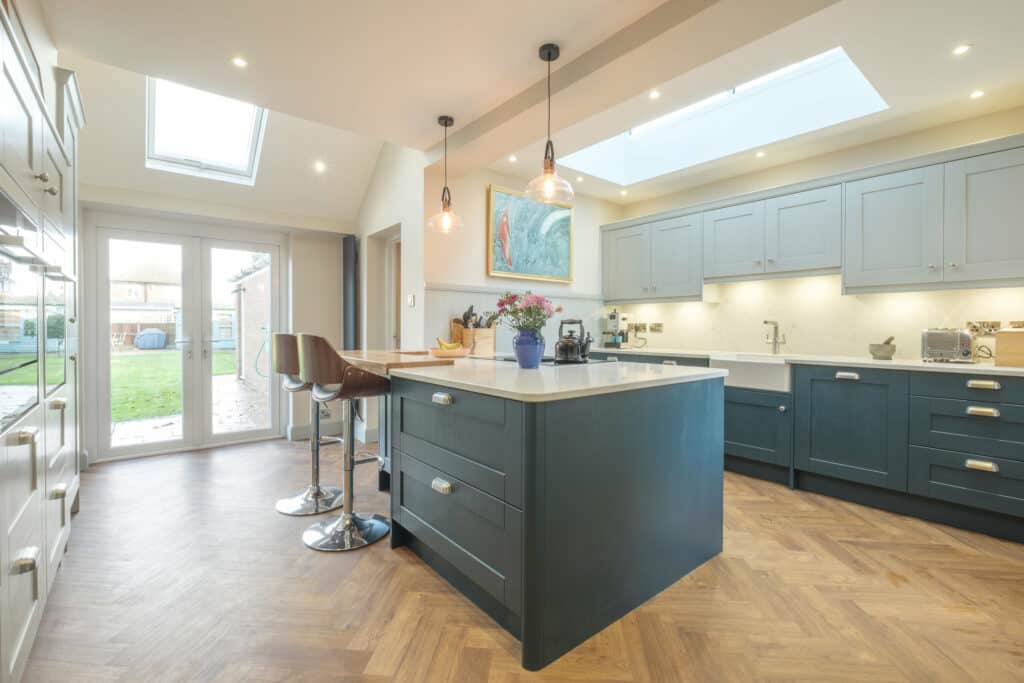 A luxury kitchen is not only just a kitchen, it is an investment in your lifestyle and way of living. Your kitchen is one of the most heavily used rooms in your home and it is a place where you and your family gather around, no matter what the occasion. Compared to a standard kitchen, a luxury kitchen will bring you ultimate style, practicality and innovative storage solutions. Why not invest in the comfort, practicality and longevity that a luxury kitchen has to offer.
Here at Roots Kitchens Bedrooms Bathrooms Kent, we pride ourselves on our ability to provide you with beautiful and functional luxury kitchens for your home. Whether you prefer traditional or modern kitchen designs, we can find something that will suit your needs perfectly. With a wide range of different colours, styles, materials and fittings etc, choosing your luxury kitchen has never been easier. If you are unsure of what type of luxury kitchen will meet your requirements, our team will work with you to discuss all of your individual needs and ideas to determine the perfect kitchen for you.
Quality
Luxury kitchens are made with the highest quality materials and fittings which are then built with ultimate precision by skilled and experienced craftsmen. With tailored designs, innovative technology and attention to the finest of details, your kitchen will run smooth, efficiently and will require very little maintenance. The combination of high-quality materials and precision craftsmanship will ensure that your luxury kitchen is strong, durable and built to withstand many years of heavy use.
Space
Space is extremely important and is heavily sought after amongst kitchen buyers. With a luxury kitchen, space no longer becomes an issue as you have the ability to plan your design so that you can optimise your available space and create innovative storage solutions. From hidden appliances to built-in cabinets and doors, your luxury kitchen can become free of clutter and appear more open and spacious than ever before.
Minimalistic Designs
Minimalistic kitchen designs are becoming ever more popular in luxury kitchens. These types of kitchen designs create an airy and organised atmosphere with the ability to maximise your space. One of the most popular minimalistic designs is handleless kitchens. Handleless cabinets, doors and drawers are a great way to hide foods, cookware and appliances in a minimalistic way. Handles can become somewhat problematic and as well as looking unsightly, they can become dangerous as they can snag on clothing and injure small children. This is why many families are now opting for handleless designs.
Lighting & Flooring
Your lighting and flooring can make a big difference between a standard and luxury kitchen. A luxury kitchen will generally have high-quality flooring which is easy to maintain and differently placed lights to set the mood and atmosphere. Under cabinet task lighting, spotlights and LED lighting are extremely popular choices. It is a good idea to choose flooring which high in quality, non-porous and easy to clean as the concept of a luxury kitchen is to make your life easier.
A luxury kitchen can change your standard of living, it offers ultimate comfort, practicality and a more efficient and easy way of running your kitchen. At Roots Kitchens Bedrooms Bathrooms Kent, we can help you to find your perfect luxury kitchen. From different styles to furniture and storage needs etc, we can work with you to gather all of your information so that you achieve the kitchen you have always dreamt of.
If you would like to know more about luxury kitchens, please do not hesitate to contact us here at Roots Kitchens Bedrooms Bathrooms Kent. We will be pleased to answer any questions and give you friendly, professional advice to help you get started on your luxury kitchen. We look forward to hearing from you.