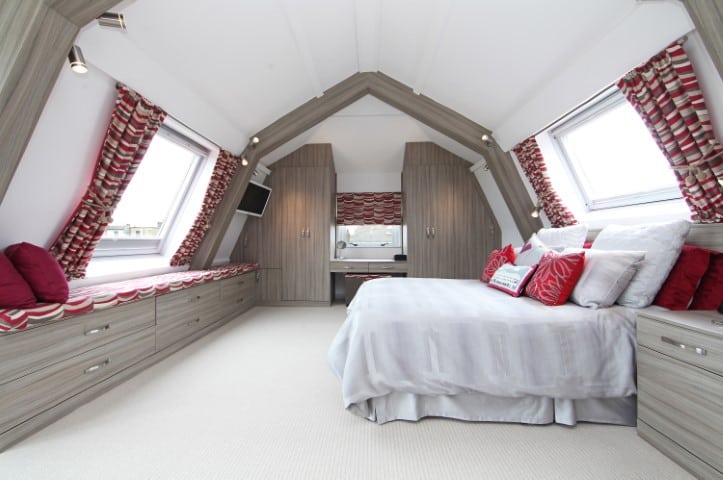 Your bedroom is your ultimate place of comfort, relaxation and your escape from the outside world. It is not only a place where you sleep but also a room where you can unwind, think and have time for yourself from the everyday stresses. For a bedroom to meet all of your needs and comfort levels, it needs to be high in quality and fitted to the highest standards.
At Roots Kitchen Bedrooms Bathrooms Kent we are proud to supply and fit beautiful high-quality bedrooms for you and your family to enjoy. Working closely with you, we can discuss all of your needs and requirements to determine which type of bedroom will be suited to you, so that you can truly relax and have a place of comfort and tranquillity.
Space is an important factor within your bedroom, it cannot be deemed comfortable if it is tight and cluttered. Many people may find that storage is limited and they have to squeeze items into wardrobes, cabinets and under the bed with little free space or organisation. At Roots Kitchens Bedrooms Bathrooms Kent, we can help you choose a bedroom which has clever storage solutions and saves valuable space so that you can have freedom, organisation and a clutter-free environment to relax in.
TAILORED TO YOU
At Roots Kitchens Bedrooms Bathrooms Kent, we are proud to supply you with a wide range of different bedroom designs. All of them are highly stylish, practical and have different functions which will meet your individual needs and requirements. With different materials, colours, furniture choices and finishes, you will have a lot of flexibility when it comes to choosing your ideal design. Whether you prefer modern or traditional styles, we can fit your bedroom to an extremely high standard, working within your unique measurements and shapes so that your bedroom is smooth and flawless.
HIGH QUALITY
Quality is of great importance and it can make a big difference in terms of durability and longevity. Roots Kitchens Bedrooms Bathrooms only source bedrooms from the most reputable and highly skilled manufacturers. This gives ourselves and our customers peace of mind that their furniture will be sturdy, durable and built to last for many years of use. We regularly inspect the furniture to ensure the highest standards have been met so that there are no errors or flaws, this will ensure that you receive a smooth and pristine bedroom for your home.
EXCELLENT CUSTOMER SERVICE
Roots Kitchens Bedrooms Bathrooms we are proud to provide our customers with an outstanding and professional service. We aim to meet all of your individual needs and requirements so that you achieve the bedroom you have always wanted. Our expert team of fitters have many years of skill and experience to complete the job to a high standard whilst respecting you and your home. We will clear up any mess and materials left behind so that your finished bedroom is smart and ready to use. We prioritise our customer's needs and keep them fully informed throughout every step of the process. Our skill, experience and customer relations is what gives us our reputation and all of our customers are extremely happy with the final result.
If you would like more information about our bedroom services, please do not hesitate to contact us here at Roots Kitchens Bedrooms Bathrooms Kent. We will be happy to answer any questions you may have and give you friendly, expert advice to help you get started on your bedroom project. We look forward to meeting you in our showroom between Faversham and Canterbury