At Roots Kitchens Bedrooms Bathrooms Kent, we have built up a vast reputation for our skill and ability to fit almost any type of bathroom. With a wealth of experience and extensive knowledge in bathroom installation, our team will fit your bathroom with ultimate care and close attention to detail so that you only receive the highest standards.
Our Handy Design and Installation Service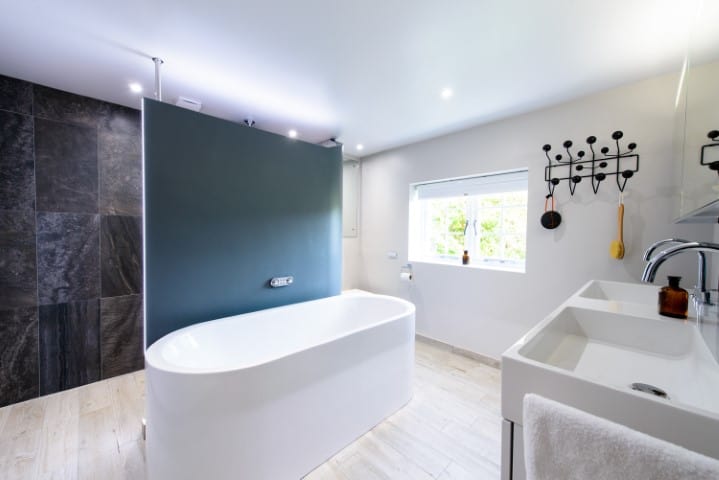 Roots Kitchens Bedrooms Bathrooms can help to assist with your bathroom project right from the very start. Our handy design and installation service allows us to work closely with you, discussing all of your needs and ideas so that we can determine what type of bathroom will be perfect for you. With the information we gather, we can suggest designs, layouts and functionality so that you receive a bathroom which is not only highly stylish, but also practical and efficient. With an extensive range of different bathroom styles, materials, colours, brands, shapes and sizes you will have a lot of flexibility to experiment with your design. Once we have determined all of your options and choices, our team of experienced fitters will install your bathroom with care and precision for a smooth and flawless finish.
High-Quality Bathrooms at Fair Prices
Working with the most reputable bathroom manufacturers, Roots Kitchens Bedrooms Bathrooms Kent ensure that only the highest quality bathrooms are selected. This allows us to provide our customers with the finest bathrooms which are strong, durable and practical. With fair prices and the flexibility to choose each element, we can recommend bathrooms which fall within your budget.
Choosing The Right Bathroom Fitter
Choosing the right company to fit your bathroom can be quite confusing and complicated. It can be difficult to define if they are reliable, trustworthy and have the ability to complete the job exactly how you want it. This is why it is vital to check the company and do some research via online reviews, testimonials and reputation. Many bathroom fitters have different services and policies and some will only fit your bathroom without the design or supply service. Here at Roots Kitchens Bedrooms Bathrooms Kent, our combination of reviews, reputation and strong customer feedback gives our clients confidence in our skill and experience in the design and installation of bathrooms. Our ability to design and fit your ideal bathroom to the highest standards will ensure that you and your family will have a beautiful and practical bathroom to enjoy for many years.
If you would like to know any more information about our bathroom fitting and design services, please do not hesitate to contact us here at Roots Kitchens Bedrooms Bathrooms Kent. We will be more than happy to answer any queries you may have and give you friendly, professional advice to help you get started on your bathroom project. We look forward to hearing from you.