Whether you've recently bought a new house or you're renovating, you'll need to know everything about types of sliding doors for wardrobes.
Sliding doors have been taking the market by storm for a while now because of all the good reasons. They save space, make for easy movements, and more. On the contrary, we all know how challenging it is to deal with hinged doors in confined spaces.
Luckily, we'll tell you all about those roller wardrobe doors and how to choose them. All you have to do is read on!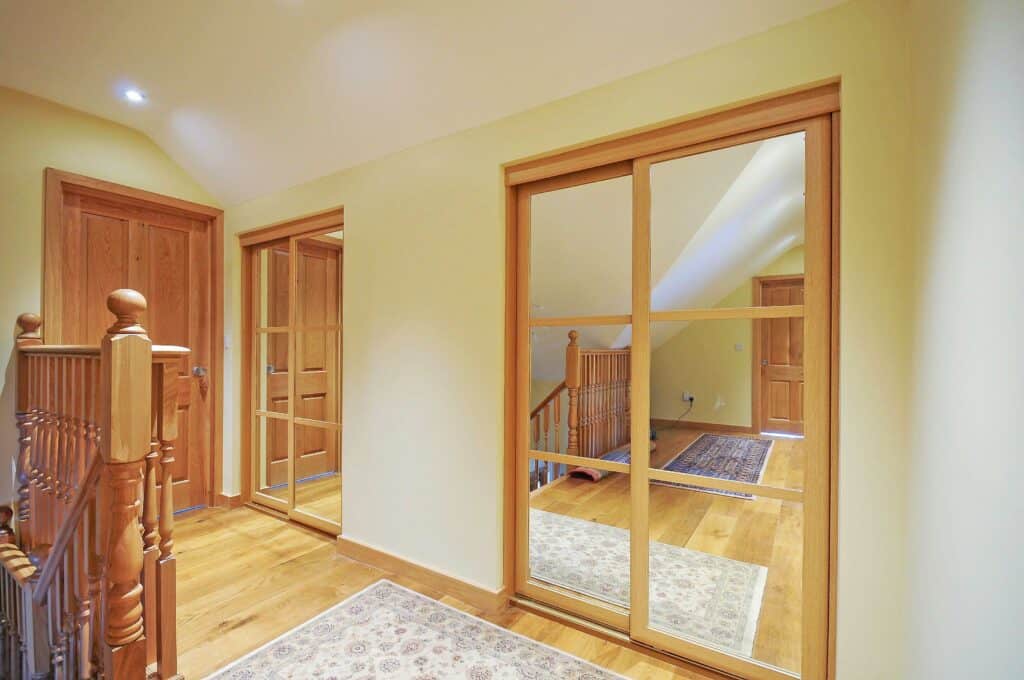 Which Style Do You Want to See on Your Sliding Doors?
The first step you should take is to choose the style you want to see in your room. There are many designs you can pick. For example, you can choose contemporary, traditional, minimalistic, or others.
The traditional style often features a classic design with brown colours and wood finishes. And while many people are opposed to its predictability, it gives off antique and warm vibes in your home. Luckily, traditional doors come in many colours and designs because of their versatility. And they'll provide your room with a calm and relaxed look.
If you appreciate a little modernity in your house, you can go for the contemporary style. Those doors come in many colours and designs, so you'll definitely find your perfect match.
In contrast, if you think true beauty lies in simplicity, you should go for a minimalistic sliding wardrobe. It'll give your room space if it's small, and the basic colours will please your eyes.
As for eclectic style sliding wardrobes, they'll satisfy your desire for different patterns and colours in your room. So, in addition to the positive vibes they give off, your room will be as unique as you are.
Types of Sliding Wardrobe Doors
After choosing the style you like the most, it's time to learn more about the types of sliding wardrobe doors. So here's a brief roundup about them.
Built-In
Built-in wardrobes are ideal for houses with large spaces. They also have many advantages: they fit many clothes and personal belongings, look elegant, and come in all shapes and styles.
Sliding doors work perfectly with built-in wardrobes to save space in the room. As a result, you won't have to awkwardly manoeuvre around your place to get your clothes.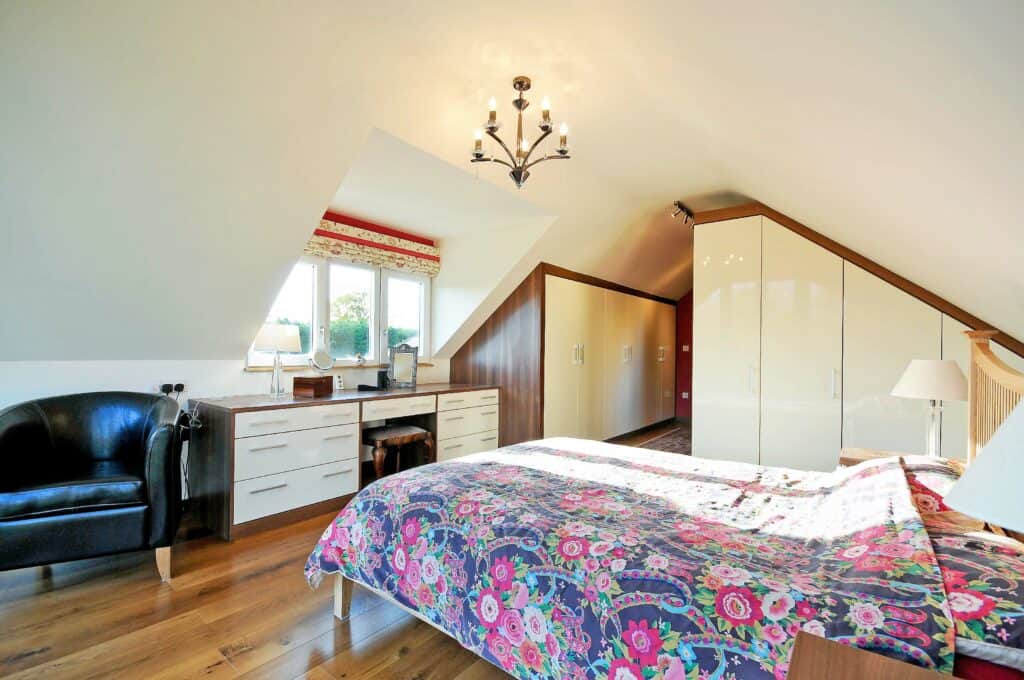 The downside here is that built-in wardrobes aren't suitable for small, confined spaces.
Free-Standing
Free-standing wardrobes are perfect for people who move or renovate a lot. They provide a larger space for storage because you can store some of your stuff above them.
Also, they come in many shapes, colours, and finishes. So no matter what your room design is, you'll find a wardrobe you like. And with sliding doors, you'll save considerable space in your room to move freely while your wardrobe is open.
On an unfavourable note, free-standing wardrobes aren't as easy to position in the room as built-in ones. As a result, you might need to move some of your furniture so that your room will accommodate your new unit.
Panelled
Panelled wardrobes often have many wood panels on the doors, giving them an elegant design. Naturally, they work best with traditional and classic interior styles. But you can customise them to achieve the look you want. However, they might be a bit pricey.
Mirrored
Mirrored wardrobe doors reflect light. As a result, the room appears wider than it is. That's why they're a perfect choice for people who have small rooms. You can either have the whole door mirrored or only parts of it.
You can also choose your frame's finish according to your room's interior design and personal preference. For example, you can either get coloured laminates or woodgrain.
It's worth mentioning that the mirrors on those doors have safety backing films. This means that if an accident happens and you break the mirror, the glass will stay together instead of shattering into pieces.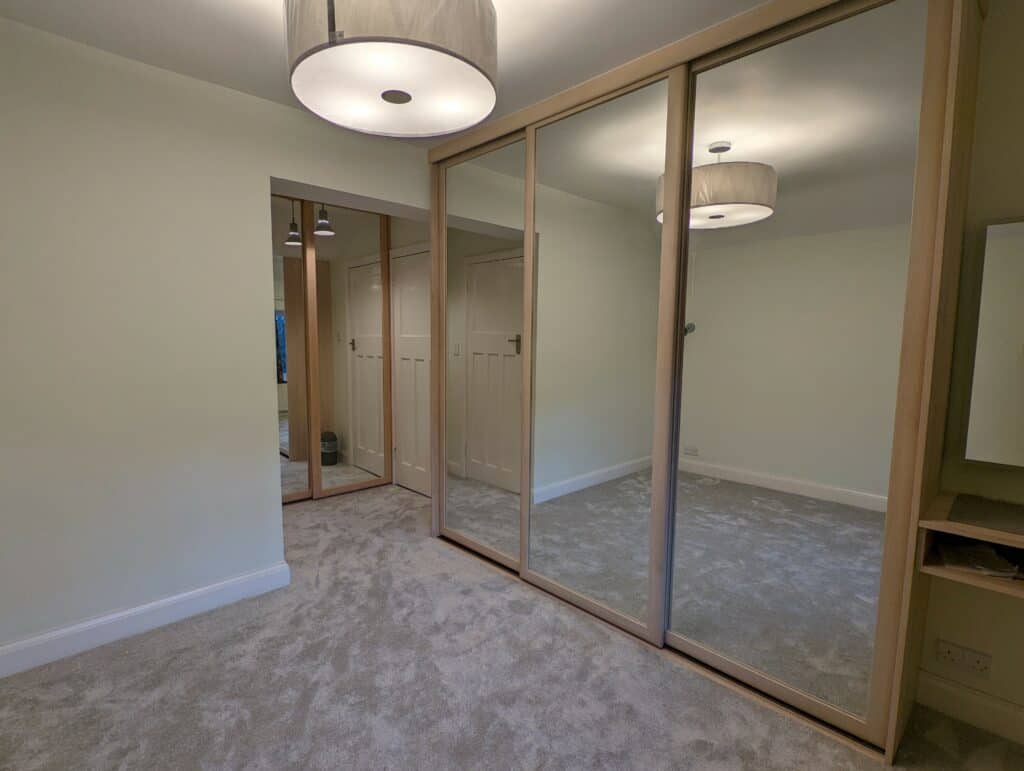 Glass
A glass wardrobe door is transparent and highly elegant. Luckily, it reflects light, thus adding to the room's space if it's small. And you don't have to worry about it breaking. Our glass doors are the same as mirror ones; they have safety backing films to prevent shattering.
Generally, glass sliding wardrobe doors have aluminium frames. And you can choose between two finishes, an anodised finish and a white frame. You can also settle for MDF frames as they're more elegant and less expensive.
A bonus point about this type of sliding door is that you can customise the glass panels with whatever colours you want. You can also use different colour combinations to fit your house's style.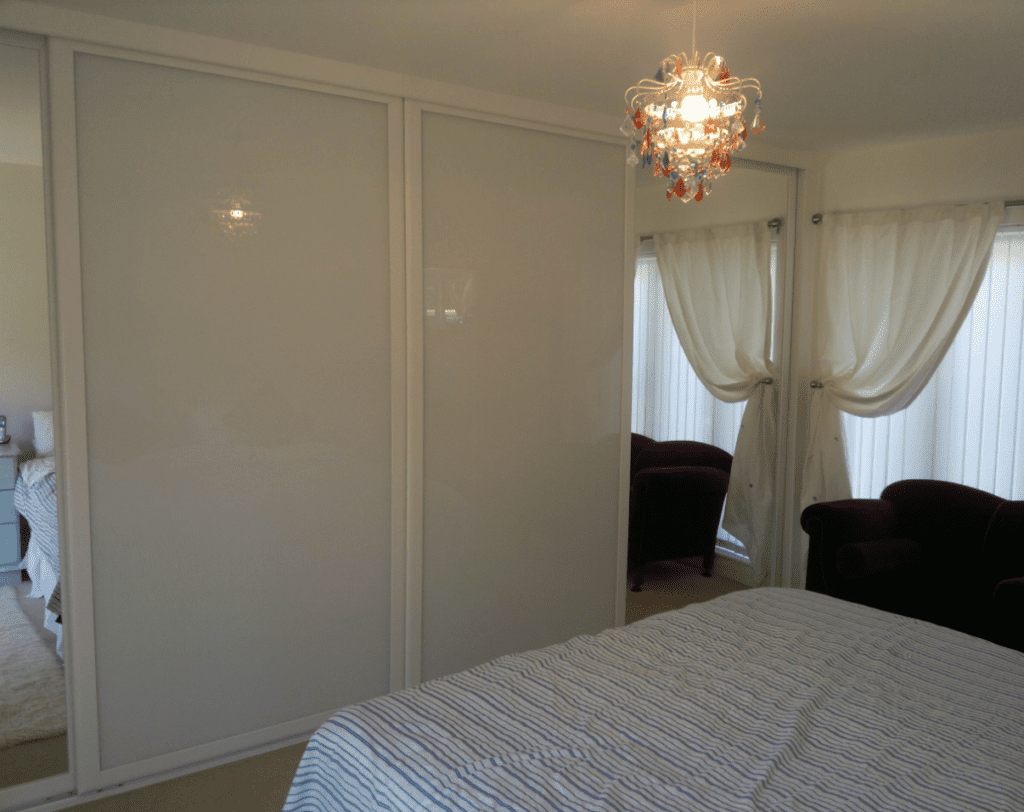 Vinyl-Covered
Vinyl-covered wardrobe doors have frames made from MDF, then wrapped meticulously with vinyl.
Because of its versatility, vinyl provides an elegant finish that goes with many styles, ranging from contemporary to traditional. Also, it comes in many textures and colours so that you can choose according to your personal preference.
Vinyl-covered doors are suitable for people with limited budgets since they aren't as pricey as other types. Also, they often have metal tracks, making them durable and easier to slide. And they have bearings in the wheels, which offers less friction.
If you renovate a lot, you can get your vinyl-covered doors repainted. But they need to be prepared properly beforehand to ensure the paint will stick.
Minimalist
Although minimalist wardrobe doors are simple, they give a powerful statement in any room. If you like serene and monotone colours, you'll love them. However, if your house has a lot of colours and patterns, they might not complement your rooms.
Sliding Door Wardrobes: Basic or Walk-In?
Every house has its unique theme, and luckily, there are sliding door wardrobes out there for each one. So while it may be challenging to find your room's perfect match, we'll make it easier for you.
First, let's put sliding wardrobes into two categories, basic and walk-in wardrobes. Basic sliding wardrobes are the godfather of wardrobes everywhere. They give an impeccable sense of elegance to any room they're in, and they offer extra storage room for you.
Generally, basic sliding wardrobes are built from floor to ceiling, leaving no unused space in-between. The sliding door feature also gives you a precious space to open up your wardrobe so that you can install it in a small room. Those wardrobes fit in any room, as they come in many shapes and colours.
To sum it up, if you want extra space in your room but have lots of clothes to store, buy a basic sliding wardrobe without worrying about how it'll fit your house's style.
Moving on to the next type, walk-in wardrobes are many clothes aficionados' dreams. They elegantly showcase clothes, bags, and shoes. And for the best part, they show luxury like no other wardrobe does.
However, those wardrobes only work if you have ample unused space in your house or an extra room.
When Are Sliding Doors the Best Option for Your Wardrobe?
Sliding doors are perfect if you live in a small or confined space. This is because they don't require a considerable margin in front of them as hinged doors do. So, for example, if you don't have any space in your room except at the foot of your bed, you can still install an elegant-looking wardrobe. Also, its door won't constantly clash with your bed.
Moreover, sliding doors work with many room types, so you won't have to renovate an entire room to install them.
The downsides of sliding doors are that they often look more modern than traditional. So, if your house has a classic aesthetic, a sliding door might not go nicely. Also, you'll have limited ideas to try out regarding your room's design. For example, you can't get the innovative look of a dressing table area between two built-in wardrobes.
Another disadvantage of sliding doors is that if their walls, floors, or ceilings are in a bad state, they'll be pretty obvious.
All in all, sliding doors are the best option for your wardrobe if you have a small space in your room and don't mind a touch of modernity in your house.
What Is the Biggest Perk of Sliding Wardrobe Door?
As we've mentioned before, the main advantage of sliding wardrobe doors is that they're space-saving. They're also less pricey than hinged doors as they require less material. Not to mention, they're aesthetically pleasing as they come in many styles and colours.
You can customise your wardrobe to suit your house nicely. So whether you're leaning towards a modern, contemporary design or a minimalistic style, you'll find your match.
If you've decided to make the most out of your room space and want a made-to-measure sliding door wardrobe find out more here.
Alternatively, if you want to know some tips about how we increase storage space in your kitchen find out more here!
What Is the Best Material to Use for Sliding Wardrobes?
Although this point has been significantly argued, we recommend mirror centre panels as the best sliding wardrobe materials. For starters, they're ideal if you're on a tight budget because they don't cost as much as other finishes. Also, because they reflect light, they make your room feel large and airy.
Moving on to the best part, mirror panels are practical because you can use them as a free-standing mirror if you lack one in your room. Finally, mirror doors go with nearly all styles and colours.
What Do Made-To-Measure Sliding Wardrobe Doors Mean?
Made-to-measure sliding wardrobe doors are doors of different sizes than the regular UK ones. You might have heard about them before under the name of bespoke doors. Simply put, UK doors have standard sizes. So, if you have a smaller or larger door than those, you have a made-to-measure door.
Those doors come in handy if you want to optimise the usable space you have in your room. Also, you get to design your dream door.
Are Soft-Close Units Necessary for Your Sliding Door?
Soft-close doors feature built-in hydraulic mechanisms so that they can close softly. However, those aren't the best additions for large doors, so we don't offer them, and here's why in detail.
Although wardrobe doors are heavy, they glide on their rollers smoothly. So a soft-close feature must be strong enough to cope with the inertia of a fast-moving sliding door.
This is where a new issue arises, as this component will make it harder for you to pull the door open for the first few centimetres. But once you get a grip and open it, it'll go too fast towards the other end and slam before you even notice it. Also, since manufacturers can only install soft-close hinges at the top, this speed might move your door off its bottom track.
In contrast, a slow-moving door might not provide the required pressure to soft-close on itself. As a result, you might need to give it an extra push, which counteracts the purpose of soft-close hinges in the first place.
Without a soft-close door, you won't have to hear a slamming noise every time someone opens the wardrobe and won't dent your wallet with unnecessary costs.
What Are the Mechanisms of Opening Wardrobe Doors?
Generally, the primary mechanism to opening wardrobe doors is by hand, with sliding doors having a simpler one.
That said, most wardrobe sliding doors come with bottom wheels. But, you can choose a different mechanism by ordering a wardrobe with top wheels.
Conclusion
Sliding doors revolutionised house interiors when they first appeared on the market. They save space, look elegant, and are budget-friendly. So, if you live in a property large or small and want to make the most out of your space, then, installing sliding wardrobe doors could be the best option for you.
If you're interested in finding out more about how we can help you with creating custom sliding wardrobes for your property get in touch with us today for a free consultation!