Where to Start With Designing a Kitchen
When learning how to plan a kitchen layout, these three main steps will help you in designing a kitchen from scratch.
1. Set an Overall Budget
After all, the home kitchen design options are reliant on your budget. To illustrate, £60k will give you features that you can't expect with a £20k budget.
After you set the budget, you can sort through the products you want. Then, decide on the ones you'll invest in (based on the features you prioritise). For instance, is a boiling water tap more critical than a self-cleaning oven?
2. Establish Your Preferred Style
What you need to do is create a mood board with kitchen photos that you like. Even if you aren't sure what you like about them, they'll come in handy.
The mood board will tell you about the aesthetic you prefer, whether that's curved cabinets or handleless door styles, and the functions you need, such as dishwashers.
3. Keep Notes
Those notes should revolve around what you need from the kitchen. Perhaps your current bin is too small, or you don't have enough space to store your kitchen appliances or ironing board. Check out our video on our ironing board cupboard! Take note of all of that so that you can identify your needs and incorporate them into the kitchen redesign.
Also, you might want to add a fourth step, which is visiting Roots Kitchens Bedrooms Bathrooms showroom. This way, we can talk about your layout and budget and help you build a plan of action.
Our address is Vine Farm, Stockers Hill, Boughton under Blean, Faversham, Kent, ME13 9AB. Or check out our what3words address. We're open from 9 am to 5 pm from Monday to Saturday.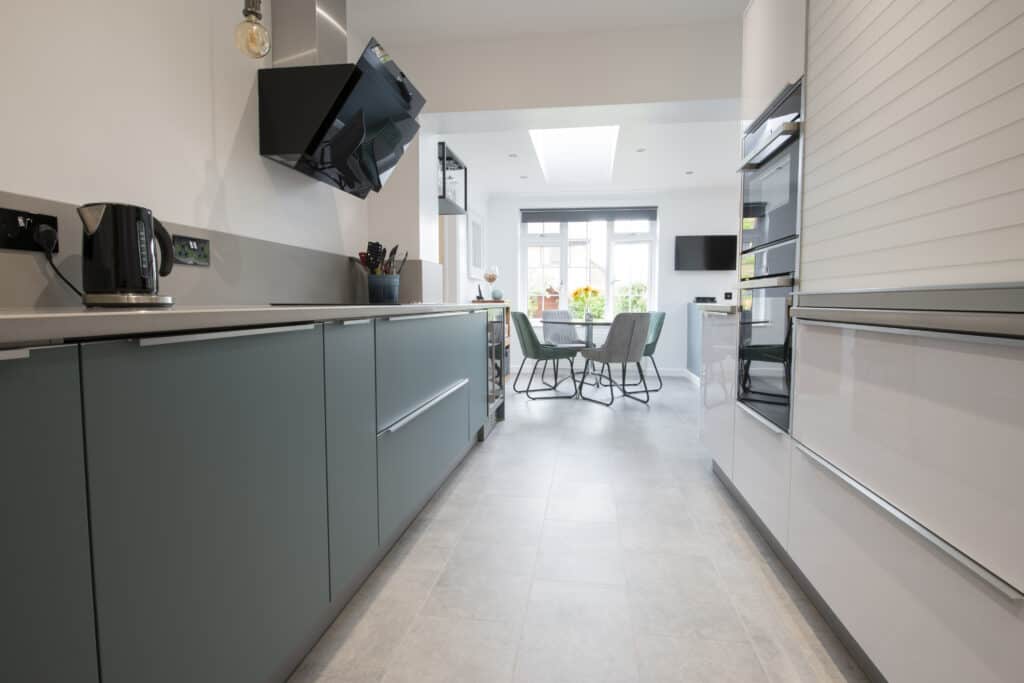 What Makes a Great Kitchen?
The question is what makes YOUR great kitchen because there's no one-size-fits-all answer. Still, there are some basics. We have the 'work triangle', which consists of the sink, refrigerator, and cooktop. There's also accommodating the need for storage space and an adequate surface for food preparation.
Aside from that, you can work with our team to get the optimal kitchen design for you. So, your ideal kitchen might be easy to clean and maintain, open and bright. Perhaps it enables daylight penetration and facilitates access to outdoor dining, entertainment areas, patios, and gardens.
Otherwise, you may want to move easily around the kitchen without bumping into objects. And maybe you want a kitchen that isn't just a place to cook but one to hang out.
At Roots Kitchens Bedrooms Bathrooms, our team's experience allows us to ensure your chosen items, products, and features work together. This way, you'll have easy access to your storage space, high-performance appliances, and everything you have in mind. Overall, we help you create your ideal kitchen.
Moreover, our team monitors and takes care of the installation trades. This means that we're fully responsible for any problems during installation, relieving you of the additional stress.
Not to mention, a great kitchen today is a great kitchen tomorrow. So, we'll always be a call away if you need any help handling any wear and tear.
For example, previously, we've given a customer a kitchen U bend without any charges after theirs was knocked off because an overly big item was placed under the sink. And this is a kitchen that we've fitted 12 years ago!
Designing a Kitchen – Starting With the Basic Elements
Set a Kitchen Design Budget
The good news is that the price range is incredibly wide, so you can set a budget that accommodates your kitchen size and needs. As a rule, a kitchen redesign may cost anything from 5% to 15% of the home value. And I'd advise you to add 20% to the budget to cover other unexpected costs.
If you want numbers, a dry fit installation can cost £3000. But, of course, if you're replacing walls, windows, and doors, you can expect the price to increase significantly. So, it's typical for a room to cost upwards of £25,000 (plus VAT) for the total expenditure of the kitchen.
Gather Kitchen Design Ideas
Look up ideas for new kitchen layouts on Pinterest, Instagram, and even Google. This will help you step away from the stereotypical kitchen layout idea. Also, you can make your search more specific by looking up L-shaped kitchens, galley kitchens, one-wall kitchens, and so on.
Create a Wishlist
I've referred to this before, but allow me to elaborate. You need to reflect on your lifestyle. So, if you entertain guests regularly, a space that makes room for them should be on your wishlist. And, of course, use the mood board I've talked about earlier to pinpoint your preferences and jot them down.
Consider Layout and How You Will Use Your Space
Envisioning the layout is crucial, as you get to consider the space and how you'll use it. The designer will draw a plan that identifies different zones and activities. It'll also illustrate circulation patterns and how people move through the space. Here are some questions to ask yourself:
What are the focal points of the kitchen? Are they distributed around the kitchen evenly? If not, what can I add to level them?
Am I overcrowding the space? What can I remove to avoid cluttering the kitchen?
Does this layout accommodate the prospect and refuge theory?
Does the circulation pattern enable me to move easily from the door to other activity areas?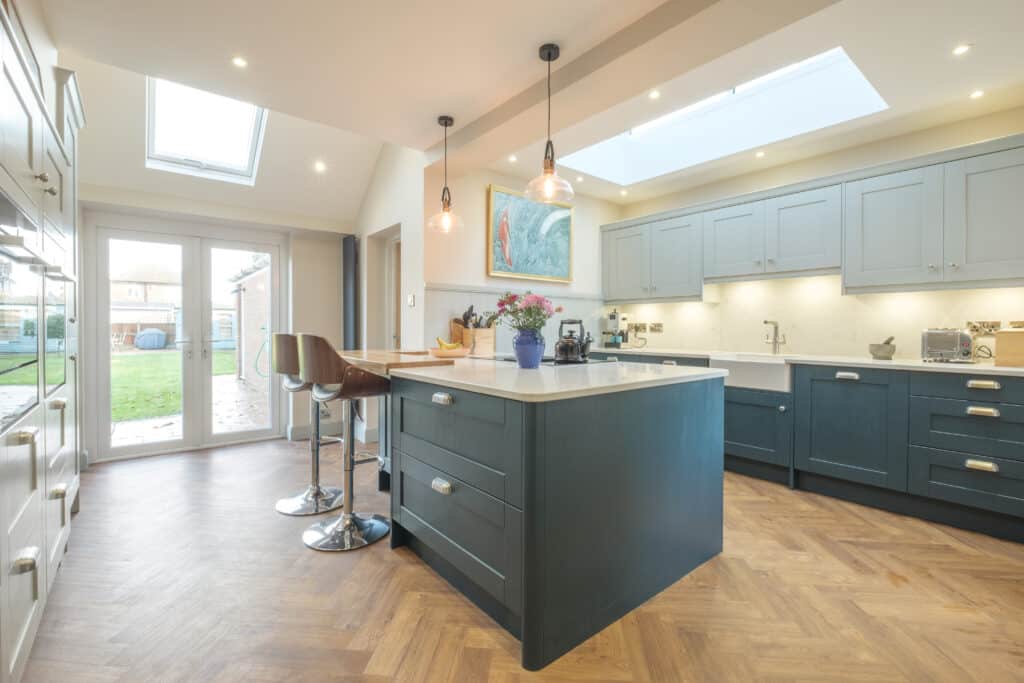 What Are the 6 Basic Kitchen Plan Layouts?
I'll run you through each so that you can make up your mind.
Open Plan Kitchens
An open kitchen layout gives way to the living area (the dining room but, sometimes, the living room). This way, you can cook and entertain your guests or watch TV simultaneously. Overall, its easy access renders the open kitchen a favoured layout for new developers. Not to mention, it's an excellent home kitchen design if you want to save space.
Galley Kitchen
A galley kitchen looks like a corridor with two walls facing each other. Furniture and appliances face each other across the corridor, much like a small ships galley. This is the optimal kitchen design for small spaces, as it maximises vertical space and provides you with a spacious counter.
L-Shaped Kitchen
L-shaped kitchens are suitable kitchen layouts for limited spaces as well. You can even add an island and have the kitchen open to your living space. In this layout type, the three workstations make a triangle of sorts. In turn, this arrangement makes it a good kitchen design layout for two cooks to work together.
U-Shaped Kitchen
The U-shaped kitchen layout features a workstation on each wall and connected countertop space. With the workstations separated, two cooks can easily cook in the kitchen. Overall, the U-shaped kitchen is arguably the most efficient way to design your kitchen.
Island Kitchen
We've previously referred to the island kitchen when we discussed the L-shape kitchen. After all, the addition of the island (and sometimes stools) is what marks this layout. Accordingly, you can have space for seating and meal preparation. It can even be a gathering spot if you're hosting a party.
Peninsula Kitchen
A peninsula kitchen floor plan resembles the island kitchen one, except its unit is connected to a wall from one side (not freestanding). In other words, the unit is a kitchen layout extension. Like the island kitchen, it can give you an extra workspace, hangout spots, and potential storage options.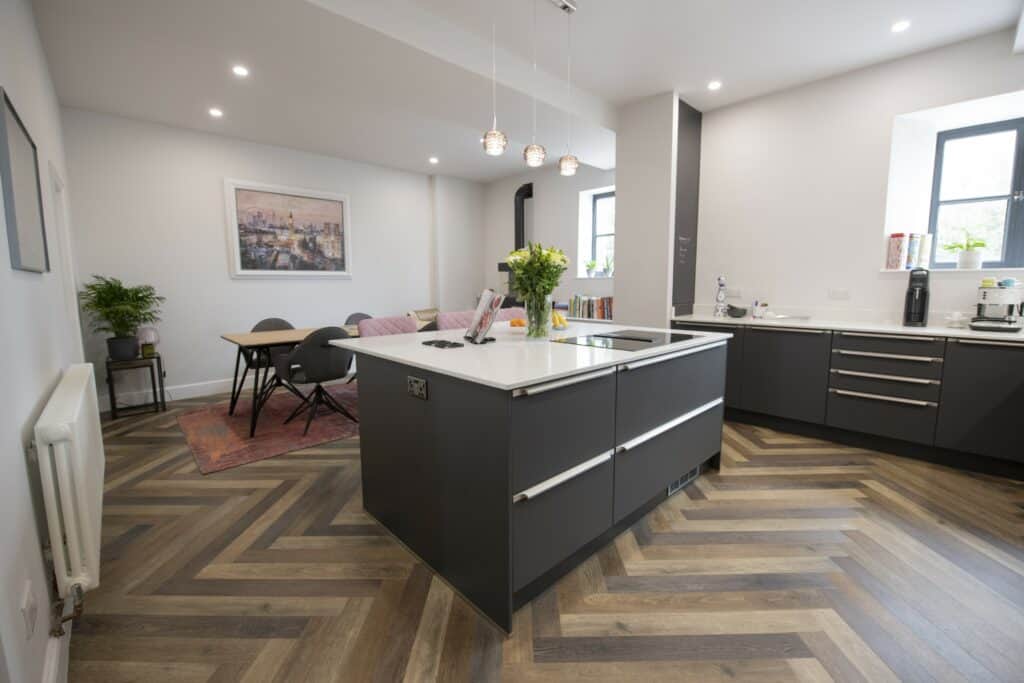 Consider Cabinetry Proportion, Scale, and Symmetry
You're probably wondering how to plan kitchen cabinets. Kitchen cabinets and appliances can often be 600mm wide, so dividing your kitchen into 600mm-wide increments can give you a sense of scale.
If you want a tall unit, place it up to the ceiling or just under it. This way, it'll look balanced. Also, attempt to maintain symmetry by positioning a key piece in the middle of the kitchen.
Kitchen Colours
Here's a list of the kitchen colours that are popping the most:
White: Whether that's a pristine or creamy white, the colour is versatile and full of possibilities.
Black: An all-black kitchen makes for a bold statement, but it's tricky to get right. Why not check out our video on black and brass kitchens?
Grey: A sophisticated grey kitchen can be either traditional or modern. Either way, it compliments various shades.
Blue: Inky blue looks great with light woods, whereas teal or sapphire blue work well with brass and gold metalwork.
Green: Green is the relaxing tone that a hectic family kitchen needs. And you can choose light or dark greens depending on how classic or bold you want the kitchen to be.
Pink: You can get rich or chalky pink for a versatile option, which works with shaker cabinets and natural materials.
Red: If your kitchen doesn't get much sunlight, red can brighten it. It's perfect with raw materials, such as natural stone and wood.
Plum: Plum can give your family kitchen a cosy and warm autumnal feel.
Yellow: There's arguably no better way to add joy to your kitchen than choosing a soft yellow for its cabinets.
Saffron: Saffron is a vibrant yellow shade with orange undertones if we've ever seen one. You can pair it with dark brown, deep burgundy, and even grey and blue.
Measure Up
Here, we're talking about measuring up for the worktop and deciding on a sufficient size. Ensure that it's close to an oven. This way, you can put down a hot pot if you need to fetch better oven gloves. Of course, you need to consider where the cooker, sink, and electrical items are to avoid running into plumbing and gas issues later on.
The Big Things – Fridge, Freezer, Dishwasher
In line with what we've just said, you need to factor in the big appliances: fridges, freezers, and dishwashers. They'll certainly take away from your worktop space, so measure these big appliances to get the remaining space. Then, of course, you can revisit those measurements after you buy the devices to get more accurate results.
You can also choose between integrated and concealed models. So, do you want to hide your big appliances behind cupboard doors, producing a cohesive look without visual distractions? Otherwise, freestanding devices are ones that you put on full display, making for a retro or heritage scheme.
The Little Things – Toaster, Kettle, Microwave
Now that you've gotten the big appliances out of the way, we'll go over the smaller ones. Like the bigger appliances, they also interfere with the overall worktop space. You should consider toasters, kettles or boiling water taps, and microwaves when you make a kitchen layout. For instance, desktop appliances like microwaves may need space around them for ventilation.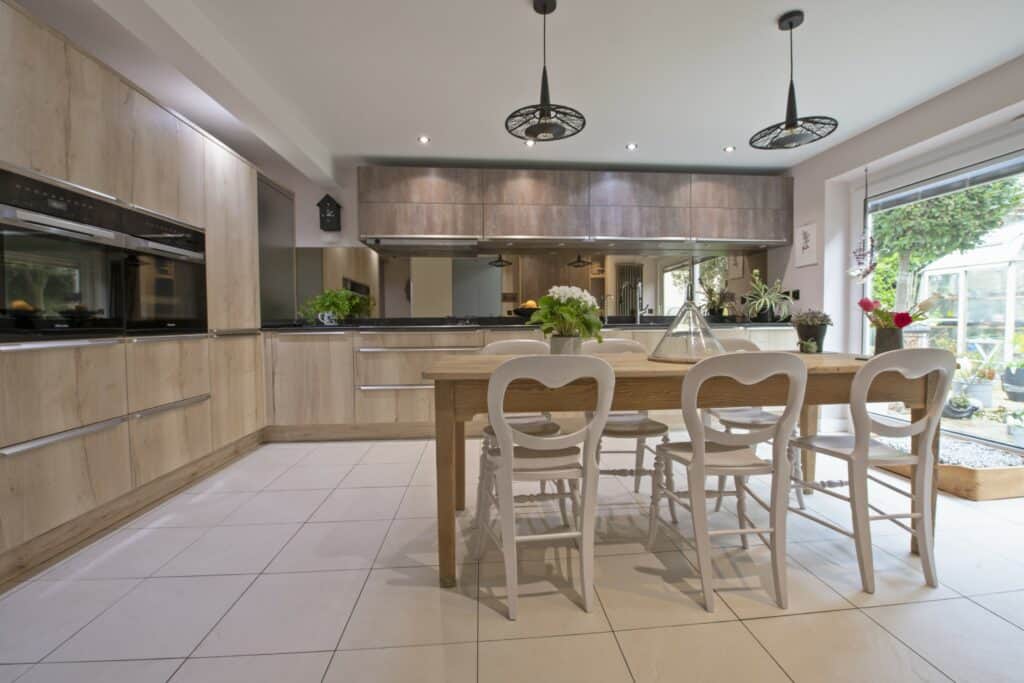 Choose the Best Materials for Your Kitchen Design
When it comes to materials, manufacturers make cabinets from Melamine Faced Chipboard (MFC). Chipboard ensures that the product is durable, stable, cost-efficient, automated, and aesthetically pleasing. You can also check out our article on what kitchens and cupboards are made of and why.
Then, there are the doors needed for kitchen cupboards. You don't have to worry too much about their quality. Their primary function is aesthetic because hinges do all the heavy lifting.
Accordingly, just pick doors that look attractive, are easy to clean, and won't wear out fast. There are numerous door materials to choose from, such as MFC, timber, coloured or mirrored glass, copper, wood, and stainless steel.
Choose the Right Cabinets
To choose suitable cabinets, you should consider your budget. If it allows for custom cabinets, that's awesome. If not, prefabricated ones are less expensive. Also, get as much kitchen cabinetry space as possible with drawers and wall cabinets. And a cabinet for the appliances that you use the most is helpful.
Choose the Best Kitchen Worktops
Focus on choosing the best kitchen worktops for your needs. So, if you intend to use the worktop extensively, you need a durable one. However, if you'll entertain a lot, you require an aesthetically pleasing worktop. Ultimately, it's about the material.
Wood: Timber is a lovely natural material for a worktop. It needs regular oiling to protect it from water damage, but if ever it is damaged sandpaper will return it to it's original beauty.
Granite: this natural stone is a beautiful and hard wearing surface for your kitchen.
Quartz: This is a man-made stone like material. Whereas granite's natural patterns are random and unpredictable, quartz is manufactured so has consistent patterns and colours between slabs. Granite and quartz are similar in price.
Corian: Corian is a man made solid surface material, known for it's hygiene, seamless joins as well as the ability to shape and mould it to fit the room. We especially like the 'coved upstands' that make cleaning your kitchen worktops easier.
Sintered Stone: New brands like 'Dekton' are sintered stone. This is a manufactured stone like material that is harder than granite. It's also waterproof so suitable for use outside and as flooring. Check out our video where we explain Dekton in more detail.
Laminates: The water-resistant surfaces can look like numerous finishes but are much less expensive.
Zinc, Concrete, and Stainless Steel: If you want an industrial kitchen look, these common worktops materials will give it to you.
Choose Kitchen Flooring
Here's a look at the main materials for kitchen floors to plan your kitchen:
Ceramic Tiles: Hard wearing ceramic tiles have been used for centuries. A glaze surface gives the colour and texture and cement grout fills the gaps between them.
Porcelain Tiles: Porcelain tiles mimic many flooring types, including timbers and are highly resilient and maintenance-free. They have a more durable surface than ceramic and used to be more expensive, but modern production techniques mean they are often similar in price to ceramic tiles.
Concrete Flooring: Concrete floors are versatile, making them the floors for open-plan kitchens. Raw concrete is often sealed with resin to reduce dust and ease cleaning. Imperfections in colour and other marks are considered features rather the problems and add to the natural patina of the floor.
Vinyl Flooring: Today's vinyl floors are sturdy and able to adopt the appearance and texture of many types. They can be 'roll vinyl' in continuous large sheets, or more durable 'luxury vinyl tiles' which are rigid and have joins like ceramic tiles.
Stone Flooring: Natural stone floors complement both country and contemporary kitchens. They'll need ongoing maintenance and sealing and develop wear and tear through time, considered part of their natural patina
Engineered-wood flooring: Often made as tongue and groove panels that slot together. These are 'floating floors' that are often installed after the furniture. At Roots we often avoid these flooring types for kitchens as they are often easily damaged by water. The chance of small leaks in a kitchen through the years could lead to expensive damage.
Rubber Flooring: Rubber is durable and has a soft underfoot. You might want to be selective with your cleaning products though. It is also more often used commercially rather than in the home.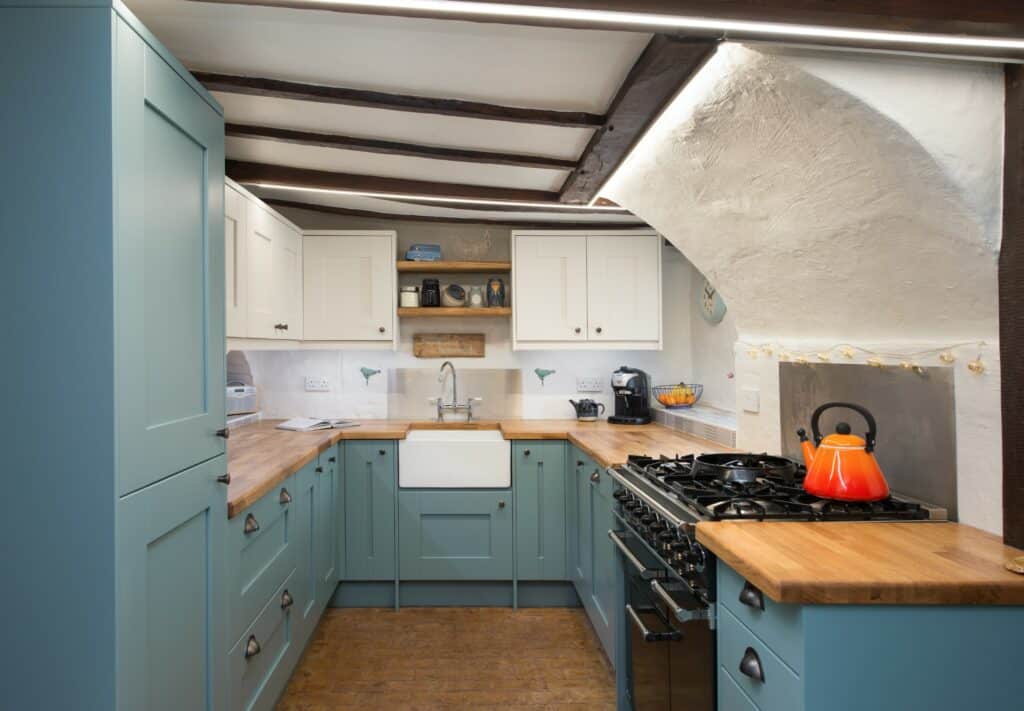 Choose the Best Kitchen Wall Tiles
Below is a list of kitchen wall tiles:
Marbles, Travertines and Limestones: Natural stone tiles will often need specialist installation and sealing to help them be easier to clean during us. They are available in many variations.
Slate: Slates' textured surfaces will make your kitchen wall intriguing for sure.
Ceramic Tiles: The most popular option for a wall finish, these manufactured tiles are almost made for kitchen walls. They're affordable and easy to wipe clean.
Glass Tiles: Glass tiles are stunning and sparkly. And you can go all out with multicoloured glass mosaics. It's also possible to have bespoke glass splashbacks with large single pieces of glass fitted without joins above worktops.
Gloss Tiles: Gloss tiles make small kitchens seem bigger and brighter.
Matt Tiles: Matt tiles are subtle and can contrast other surfaces in your kitchen, sometimes they can be more difficult to clean.
Nothing!: With Corian, Granite and Quartz worktops it's increasingly popular to have a small upstand on the worktop then have the wall painted with a suitable wipe clean kitchen paint.
Choose the Right Kitchen Window Dressings
For kitchen window dressings, you might want splash-proof vertical blinds that are PVC or coated with Teflon. But for optimal privacy, cafe style shutters are your go-to. You can also debate getting faux wooden blinds, which can handle humidity and repel water. Otherwise, you can have storage space on the window sill if you opt for a thin roller blind.
Choose the Right Kitchen Lighting
You'll need to combine different lighting types and ensure that you can operate them separately. Firstly, you need task lighting over task areas. They should have as little shadow as possible to facilitate safe cooking and meal preparation. Wall lights that direct light on the work areas are great for that purpose.
Secondly, ambient lighting refers to the overall background illumination. This way, there's a balance of light throughout the kitchen all day. You need to use natural light along with surface lighting, pendant lighting, chandeliers, or even bulkheads.
Thirdly, accent lighting is required for visual appeal and a cosy atmosphere. You can achieve that with cupboard lights, LED lights, and pendant lights.
Work Out What Kitchen Storage You Need
You need to consider your storage needs, take inventory of your kitchen, and sort your storage areas into ones for cooking, cleaning, preparation, consumables, and non-consumables.
It can be helpful to break this list down into how many shelf spaces you need of an average single door cabinet. These shelf spaces can later count as drawers, or perhaps 2 wall unit shelves can count as one (naturally deeper) base unit shelf.
Consider Electrical Outlets in Your Kitchen
Kitchens usually consume the most power due to their many electrical appliances. Accordingly, you should place them in the correct position, which is where electrical outlets come in.
To illustrate, you need sockets over and under your worktops, a separate circuit with an isolation switch for your cookers, 1 way or 2-way switches for lights, and outlets for cooker hoods with built-in lighting and fans. At Roots part of our design process includes calculating optimum positions for sockets in the room.
Where Should a Stove Be Placed in a Kitchen?
For one, the stove or oven should be close to the sink and main refrigerator (with a 1.2 to 2.7-metre distance). The goal is easy access and a clear path to the oven. Also, there should be enough space to open the oven and move around it. Ideally, we try and avoid having a pathway through the kitchen crossing the path between oven/hob and sink, to avoid potential accidents of people passing through the kitchen just as you carry a pan across to drain in the sink.
Decide if You Need a Kitchen Island
A necessary step in how to design your kitchen is deciding if you need a kitchen island or if you even have space for it. As a rule, the kitchen island should be at least 80cm from worktops and walls. Otherwise, the kitchen will feel too cluttered, and you'll find fitting or servicing inconvenient.
On a case-by-case basis, that can be reduced to 70cm, such as if a corner of the island reaches 70 cm (the average internal house door width).
Should You Include a Boiling Water Tap in Your Kitchen?
Marketers might push you to buy a boiling water tap, but it depends. The boiling water tap is undoubtedly convenient. This way, you don't have to wait around for water to boil and make gravy or noodles in a minute!
Still, a kettle is cheaper, so this question ultimately relies on your budget.
How Can You Plan For Recycling in Your Kitchen?
The secret is multiple bins. You can choose between freestanding and built-in bins. At Roots Kitchen Bedrooms Bathrooms, our designers make it a point to think of how a kitchen layout can support waste disposal, and they consider the frequency by which you can empty your bins when planning a new kitchen.
Aside from how to design a kitchen, our team can help you with bedrooms, wardrobes, bathrooms, and more.
Tip: If you can splurge on Waste Disposal Units, they'll reduce foul odours from food waste and the number of trips you need to take to the compost bins.
Does Your New Kitchen Need Planning Permission?
Replacing a kitchen doesn't require a planning application, except if it's part of a house extension. And if your property is a listed building, you need to consult the local planning authority. You also need to check if permission is required for specific alterations or appliances. Some changes may require building regulation approval, for example all electric alterations in a kitchen need to meet the current building regulation standards and this is covered automatically by our electricians as part of their governing bodies reporting system.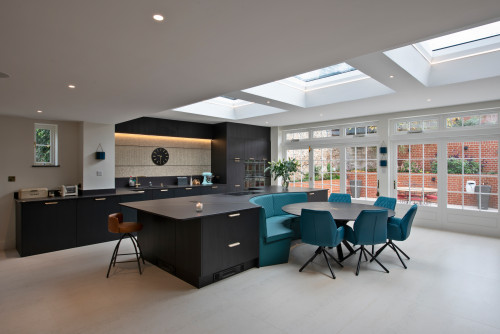 Let's Draw Up a Detailed Kitchen Floorplan
Before delving into all the kitchen plan details, put down the set fixtures in your kitchen: windows, doors, and other objects that can't be moved. It's also vital for the floorplan to be accurate, so measurements are key. Finally, don't forget to factor in the nooks and crannies of your kitchen.
Our team at Roots Kitchen Bedrooms Bathrooms can help you with that, designing your kitchen and handling all its tricky corners.
Modern Kitchen Designs
If you want a more modern kitchen, you might opt for robust materials, including concrete, brick, and terracotta. These can add a graphic accent to your kitchen. Other bold and modern choices include brass and bold tiles and patterns. Also, smart storage solutions for pantries and multi-functional furniture are very modern.
Traditional Kitchen Designs
Traditional kitchens are almost synonymous with natural materials, social gathering spaces, muted colours, and lately bright ones! You might also want rusting furniture, range cookers, patterned wallpaper, traditional kitchen dressers, farmhouse tables, metal pendant lighting, patio doors, and more.
Who Can Fit Your Kitchen?
It's helpful to understand this as a collaborative project that our team overseas and organises. That's because some trades require formal qualifications. For instance, electrical trade bodies handle electrical work after it's reported to the building control. For that reason, it may be challenging to fit your kitchen yourself.
How Much Does a New Kitchen Cost?
It depends on how new the kitchen will be. Are you thinking of a kitchen redesign with full installation? Our team can take that on for £20k to £60k. It might be £100k (depending on the work needed). But if you're only adding a small amount of new furniture without installation, that project starts at £3k.
What Is the Best Design for a Family Friendly Kitchen?
The perfect kitchen setup or the best way to layout a kitchen is whatever you want it to be. It's the mental image that may have just popped into your head. Still, we'll give you some features that render a kitchen family friendly.
For one, you don't want a high maintenance kitchen, and if you can get a self-cleaning oven, then go for it. You also want a durable place to endure inevitable accidents. My four-year-old decided teaching my two-year-old how to ride a scooter in the kitchen was a good idea, so I'm glad the kitchen could handle it!
Additionally, you might want a place to eat. I have a table that seats 4 or 6 family members, which is a lot nicer than having more cupboards. Sufficient storage, accessible and hidden, is also something you shouldn't forget, so you might want drawers for plastic containers, cabinets for large food mixers, or others.
And it would help if you decluttered because removing the items you no longer use makes way for the ones you use. So, throw away the expired spice jars, abandoned kitchen appliances, and so on. It's true that less is more.
What Is the Best Design for a Small Kitchen?
In a small kitchen, your priority is to fit the essentials, which does entail some compromises. For example, at Roots Kitchen Bedrooms Bathrooms, the team designs ovens to be waist height, saving bending. And the worktop is next to the oven. Sometimes, the oven might have to be under the hub. These compromises are how you can work with what you have.
Another aspect to highlight is colour choices. The common idea is to choose light colours. However, you can also use dark tones as a counterpoint to add a warm atmosphere to the room. You can check out this kitchen style to get an idea.
What's Trending in Kitchens in 2022?
When it comes to colours, baby blue, green, and mint green are trending. As for materials, I'm seeing white surfaces with minimal patterns, coloured stain wood, coloured marble, textured surfaces, wood grain, kitchen wallpaper (or wallcoverings, as they're often textile based rather than paper based), slab backsplashes, 3D surfaces, and coloured concrete effects.
Other trends include sustainable materials, peculiar sinks, and freestanding storage with numerous functions.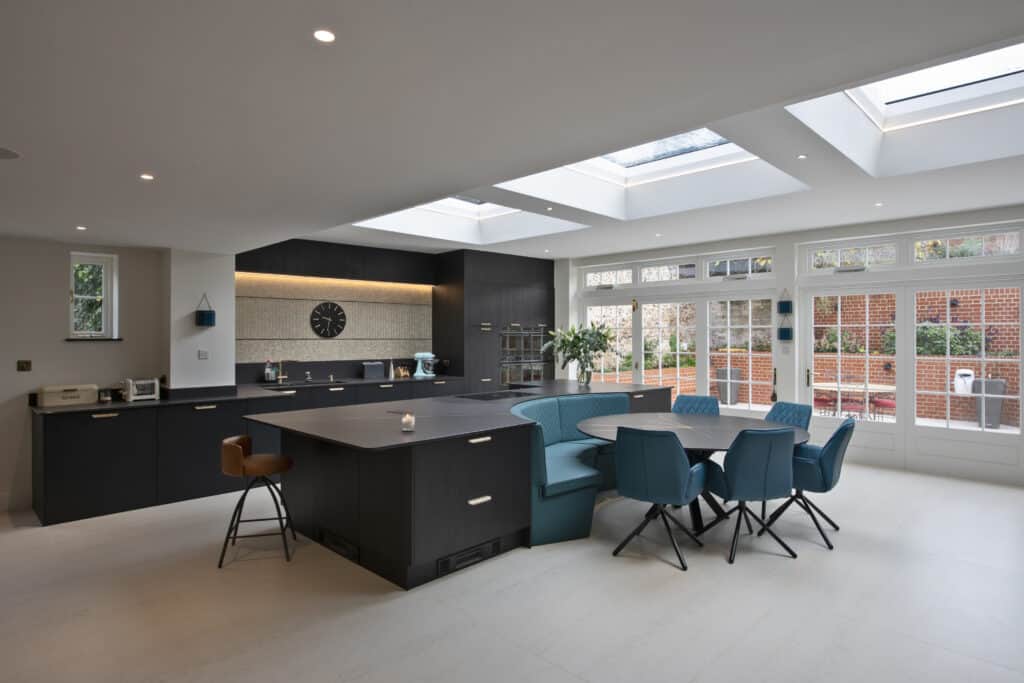 Last Things to Consider When Designing a Kitchen
Because we've detailed a lot of information, we want to tell you about some things that are integral to how to design a new kitchen layout. We've referred to this before, but a firm budget will be vital as you decide on the elements you want in your kitchen.
Moreover, the layout relies on the triangle theory. So, there should be a clear path between the cooktop, sink, and fridge with countertop space around them.
Conclusion: Where to Start When Designing The Perfect Kitchen for Your Property
Overall, I hope you have a better grasp of how to create your own kitchen design. Be sure to contact Roots Kitchen Bedrooms Bathrooms and visit our showroom, as our designers can make the home kitchen design layout and renovation process a breeze. You can call our number 01227 751130, email us at showroom@roots.uk, or fill out this online form.
Of course, you can decide on all the different elements you want for layouts, cabinets, colours, and work areas. Then, our team will help integrate them seamlessly. We'll also monitor the fitting, installation trades, and overall process, relieving you of any additional stress. So, take a step to create your dream kitchen!