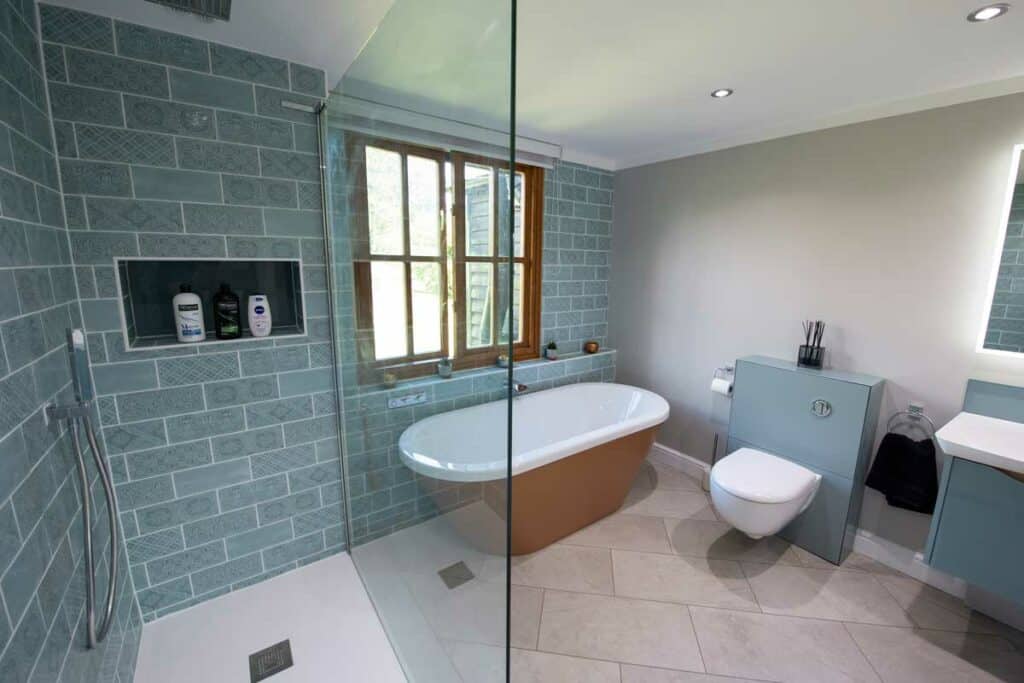 You're embarking on a bathroom renovation project, so you're probably wondering what to consider when designing a bathroom. Of course, you have to factor in the plumbing and many technical details. For that reason, we've put together a guide to walk you through the process.
Assess Your Bathroom Needs
Consider the elements of your bathroom. Needless to say, it'll have a toilet and somewhere to wash. Aside from that, do you want a shower, bath, or both? In this stage, don't worry about how these items will fit. We're looking to set an order of priorities and only compromise when we need to.
Don't forget to take a long look at your current bathroom. Do you want new cabinetry, floors, countertops/worktops, and so on? Would you rather adjust the layout of the bathroom or completely renovate it?
Also, do you intend to use the bathroom for storing items, including toothbrushes, toothpaste, shampoo, soaps, towels, toilet rolls, personal hygiene products, and spare items? And do you keep scales in your bathroom or store everything in the airing cupboard?
Now, think of the people who'll use the bathroom and their particular needs. For instance, if someone has balance issues, you might want to add handles to grab. Also, contrasting colours can restore the orientation in the room for people with vision issues.
Afterwards, ask yourself if you have a mental image of the bathroom you want, its style and its aesthetic. For example, are you thinking traditional Victorian style products, ultra-modern wall hung products, or a mix of both?
Measure up Your Space
If you're a Roots customer, we'll do this for you. If not, measure the room in centimetres along every wall. You can cross check opposite sides of the room and make sure they add up to the same amount. You'll need to measure where windows and doors are, how high off the floor they are, and how tall they are.
Tip: You can use online tools (like SketchUp) to draw your room digitally. This way, you can tweak the measurements and design easily.
In addition, note the location and details of the plumbing connections. That's especially important for the soil pipe. This pipe connects the toilet from behind to an outside soil stack via the floor or wall. It also may be hidden so as not to be an eyesore.
Still, why is it important to know where the soil stack is? Simply put, it allows us to assess your options. In other words, it might be possible to relocate the WC, a total game-changer for your bathroom layout!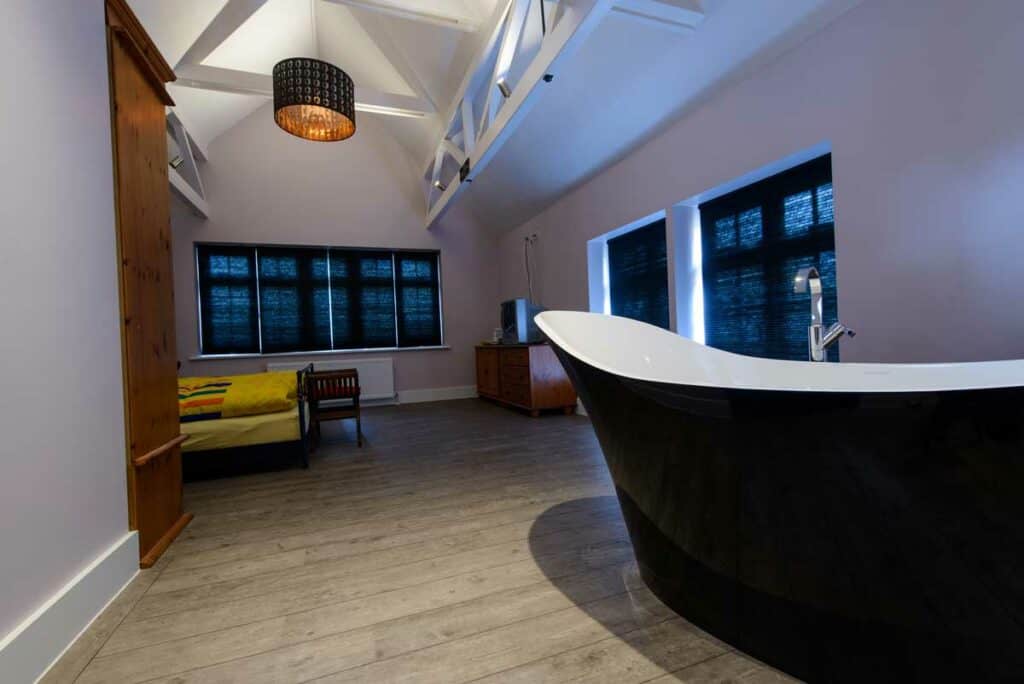 Plan Your Bathroom Layout
Now that you have your bathroom measurement down, you can create a layout. In this stage, we prioritise the needs you've expressed previously in the layout. We'll give you some examples:
Showers: Since you use them every day, you might want them to be as big as possible.
Baths: We can provide a 1700mm x 750mm shower instead of the default 1800mm x800mm if you have a smaller bathroom or don't want the shower to be small. We also have baths in both larger and smaller sizes.
Basins: According to your storage needs, we can add a simple basin or one with drawers or cupboards. They're typically placed under windows to get the most sunlight or on walls with illuminated mirrors.
Toilet: Usually, the toilet's location depends on the soil pipe location. However, we've moved the soil pipe behind the bath for a client before. Then, we built a seat area in the shower, which transformed the place and hid the pipe.
What Makes a Good Bathroom?
Take your time to understand your needs and select the products that meet them because a good bathroom differs from one person to another.
For example, are you looking to create a dark and luxurious bathroom or a white and bright brass one? Aesthetics is where you give your bathroom personality. Still, there are some almost universal standards, such as easy cleaning and other functionalities.
Pick the Right Bath
Firstly, how do you choose a bath, you might ask. There are two popular materials for baths: Acrylic and Steel. Steel baths are our favourites; their Enamel surfaces are solid and hard wearing. Not to mention, they come in numerous shapes and sizes. Their prices range from £200 to several thousand pounds.
Alternatively, Acrylic baths can develop a 'crazed' pattern with time. And by 'time', we mean 15 to 20 years of daily use. So, if that sounds like you, we'd advise you to do your research and verify the bath's durability.
Otherwise, Acrylic baths can accommodate less frequent use. As for prices, a free-standing Acrylic bath is less expensive than a steel one. But quality Acrylic and Steel baths are in the same price range.
It's also worth mentioning that Steel and Acrylic aren't the only materials used in manufacturing baths. To elaborate, solid surface materials are used as well. That's common in bathrooms where the bath is free-standing and the room's feature. Other options are glass and timber.
Secondly, you should understand your space before positioning your bath. This might sound simple, but you should watch out for the following three mistakes.
The first is installing a bath over floorboards that can't support its weight. If your floorboards move noticeably when you walk over them, you might need to strengthen or renew them. A bath can typically hold 200Kg of water along with its own weight, which is similar to 3 people standing in a room.
The second dilemma you might encounter is fitting the bath into your bathroom. After all, solid material baths can be difficult to carry and handle, so make sure no turns around the house are too tight for the tub.
Wastewater management is the third issue you might run into. For example, if you plan on having a feature bath in the centre of the room, the waste will need to go through the floor.
So, check if the gap between the joists allows this and if the water can run the right way. Some regular looking baths also need their wastewater trap to drop into the floor, especially with a low bottom.
Pick the Right Shower
You should consider several factors when choosing a shower, including shower size, water pressure, and pricing.
A shower system that we aren't big fans of is the electric shower, and we only recommend it for specific cases. But that's because it may not give you the flow rate you want. Alternatively, thermostatic mixers are safe, as they don't scald you with hot water.
Moving on, there are several types of shower screens. First of all, if you have the space for them, walk-in showers are the best. They're less of a cleaning hassle and don't cause many accidents.
Second of all, sliding doors are great for small bathrooms, as the doors won't clash with any items. They also keep the water contained. But they aren't as safe for people with mobility issues.
So, beware of the risk of them falling against the glass and stopping the door from being opened from outside. Entry space can be narrow on smaller enclosures. Now, you'll probably check how big your current enclosure opening is and be surprised that it's smaller than you'd expect. Enclosures are typically 50cm!
Third of all, hinged doors are great for those with mobility issues. However, such a door opens outwards, which might be inconvenient in a small bathroom, and it also lets the water on the door drip on the floor when open.
Now, how do you put together a spa experience? You incorporate the elements that maximise your comfort, such as the right shower head, handheld shower, water outlets, volume controls, body spray, and valves.
The next step is choosing a shower enclosure (if you want one). These enclosures are functional, as they separate the wet and dry areas of your bathroom, but they also take your bathroom's aesthetics to the next level!
Are they a necessity? Shower cubicles minimise dampness, preventing bacteria and mould build up. Not to mention, they reduce the chances of slipping accidents on bathroom floors. And your option for shower enclosures include:
Wall-to-wall shower cabins
Sliding shower doors
Hinged glass partitions
Bathroom glass partitions
Frameless glass shower cubicles
Also, you may wonder if a shower can be too big. Generally speaking, your shower enclosure can't be too big. An exception is if having a bigger shower affects another feature of the room.
For example, your current bathroom may have a small bath, or installing a larger shower means you won't have as much essential storage space as you need.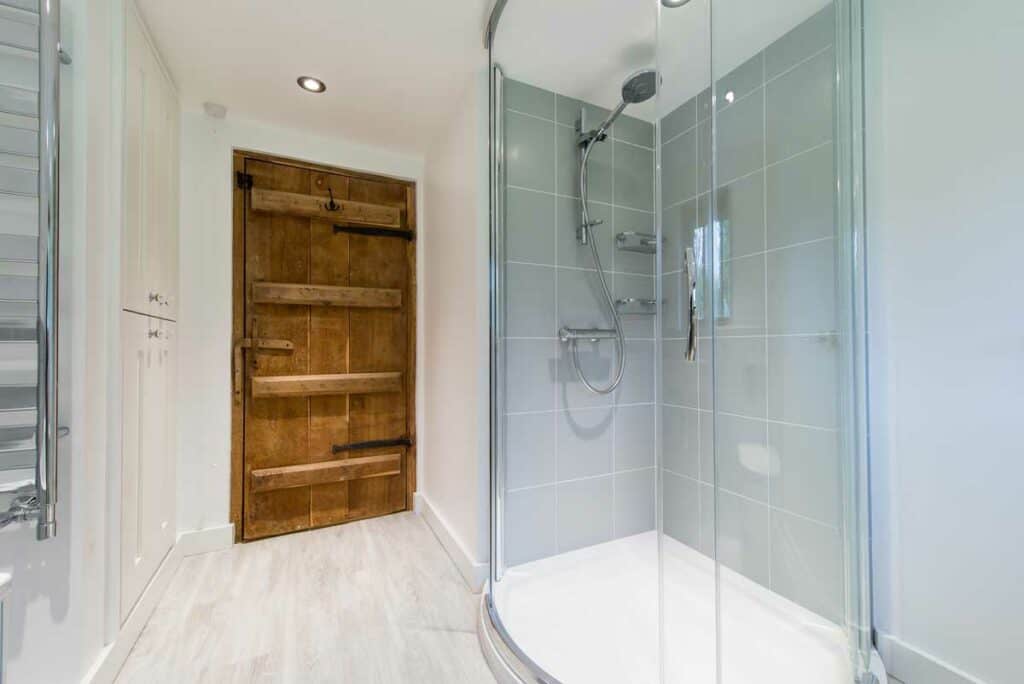 Choose the Right Toilet
There are two main types of toilets: regular and shower toilets. Standard/regular toilets include "close-coupled" types, in which the cistern and pan are attached. There are also "open-backed" or "back to wall" toilets, where there's a gap at the back for the soil pipe to turn within the room.
Finally, "wall-hung" toilets typically require a "concealed cistern", they bolt to a frame and float off the floor. These toilets can support weights of several hundred kilograms and facilitate cleaning the floor.
As for shower toilets or sometime called Japanese toilets, they produce gentle jets of warm water so that you don't have to use toilet paper for wiping. As a result, they've mostly replaced bidets in the UK.
Some people add them to their bathrooms as a luxury, whereas others with mobility needs add them to facilitate daily hygiene.
Find the Right Basin
The first consideration is the basin style, either contemporary or classic. If your place has a contemporary feel, you might want a sleek and modern style, such as the semi-recessed or countertop basins. Otherwise, classic rectangular wash basins are more fit for period properties and traditional cottages.
When it comes to basin placement, ensure that your wall will support your basin. Moreover, you should know that large countertop/countertop basins are great for family bathrooms, and corner basins are great for small toilets.
Find the Best Brassware
Let's talk taps! If your bath or basin has two pre-drilled holes, look for a couple of classic pillar taps, which are separate taps for hot and cold water. Alternatively, modern mixer taps accommodate basins and baths with a single hole, and they provide both hot and cold water.
Now that you have the right brassware, you want to position it correctly. If you've chosen an insert basin, you'll probably need a wall-mounted basin mixer. So, be sure it's placed directly over the plughole.
Last but not least, vanity units can be your bathroom key piece if you want. For instance, you can use antiqued brass for a touch of warmth.
Bathroom Storage
Regarding storage, if you have a small bathroom, opt for closed storage, as it makes your space look less cluttered. Of course, make sure you have enough storage space. So, you can use bins, bags, baskets, and buckets to maximise it.
Bathroom Flooring
How do you choose your floor, you might ask. Let's look at the different types and what they're equipped for.
Firstly, ceramic tiles are durable and available in plenty of finishes and styles (including some that look like timber). They can create a continuous look if you use them for your wet room and drain as well.
However, ceramic tiles can have be cold underfoot, so you might want underfloor heating. Also, they're prone to breaking if the subfloor moves them. But you can solve this by using flexible adhesives decoupling membranes and replacing floor timbers with more rigid subfloor systems.
Secondly, Luxury Vinyl Tiles (LVT) are a PVC material with a transparent wear layer over a printed image. We sell tiles from Amtico, a top-notch brand. These tiles are about 2mm thick, feel a warm underfoot, and come in numerous wood and stone looks.
Thirdly, vinyl rolls are the least expensive option, and they're fitted without gaps or joins. However, the drawback is that they're more likely to suffer damage than the other types. Still, that means many years of good flooring with regular domestic use.
Bathroom Lighting
Lighting should be a consideration in the planning stage; you can think of it in terms of layers and tasks. They are:
General Daily Lighting: This first layer is for average brightness.
Task Lighting: The second layer illuminates your face for shaving or makeup.
Subdued Lighting: When you want subtle lighting, the third layer is excellent. Also, consider a PIR activated accent light for a night time lavatory trip. It's enough to help you find the toilet and won't trigger the bathroom extractor (connected to the general daily lighting circuit).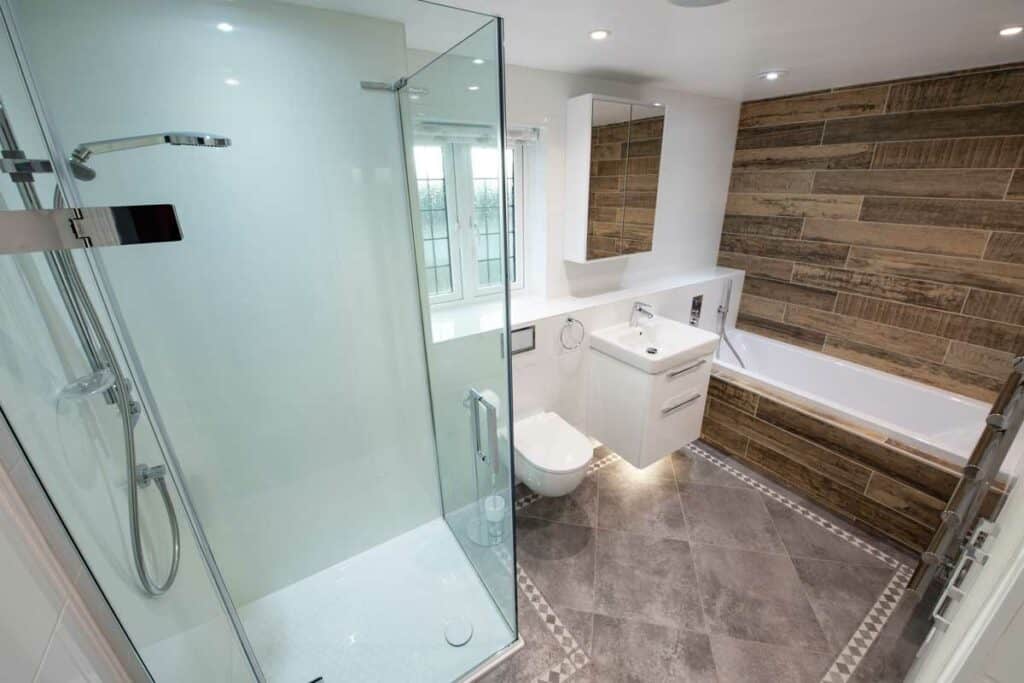 Bathroom Wall Covering
When you choose the bathroom wall covering, you want the best bathroom paint. But should you opt for shower panels or tiles? We sell both in equal amounts and similar costs, so it depends on your needs.
On the one hand, without tile grout, shower panels are easy to clean. On the other hand, tiles work better with recessed shelves, window reveals that require covering, and other features.
Environmental Factors
There are some elements that you need to factor in. For one, your initial designs should incorporate air conditioning and heating, such as towel rails and radiators. Also, do you want underfloor heating? Do you have windows for airing? If not, you might want a vent fan to remove the moisture.
As for sustainability and environmental friendliness, LED bulbs have an 80-90% efficiency, so they're great for saving energy.
Bathroom Privacy
There are various ways to ensure bathroom privacy. You can fit a Venetian blind, which helps control the light levels. Also, if you want privacy and good lighting, linen or voile panels are an option. Of course, roller blinds, frosted windows, and shutters are other options.
Bathroom Ventilation
According to the UK building regulations, bathrooms must have ventilation sources to reduce humidity and prevent health complications. Windows alone are acceptable in toilets, but new-build bathrooms featuring a shower and bath need extractor fans.
Wet Rooms
With wet rooms, you need to consider their size and layout so that some aesthetic and practical elements (like tiling) are clear. Also, the flooring type will narrow down the wetroom products and construction methods needed. Then, flow rates will determine the number of required drainage traps.
Of course, the design should incorporate drainage, ventilation, fitting, and underfloor heating, as they'll affect the construction process. But, most importantly, your wet room needs to be 100% waterproof.
Bathroom Heating
Bathroom heating is necessary for avoiding mould build up. So, unless you're installing underfloor heating, here are your options:
Heated towel rails
Underfloor heating
Radiators
A Place for Towels
Storing multiple towels at once is recommended, but where do you find the space? Storage ideas include ladder towel racks, travel rings, baskets, DIY basket shelves, open shelves, hooks, wood boards, and even glass display cases!
Plumbing Fittings
Considering your existing plumbing and electrics is a good idea. That's because positioning your new bathroom as close to it as possible will save you money and effort. Also, it helps to consolidate the existing plumbing in your bath.
Tips on How to Design a Small Bathroom
You can make a small room feel wider with light colours and mirrors. Also, install a medicine cabinet over the toilet instead of built-in cabinetry. And think about adding a glass shower wall or half wall to minimise water splashing.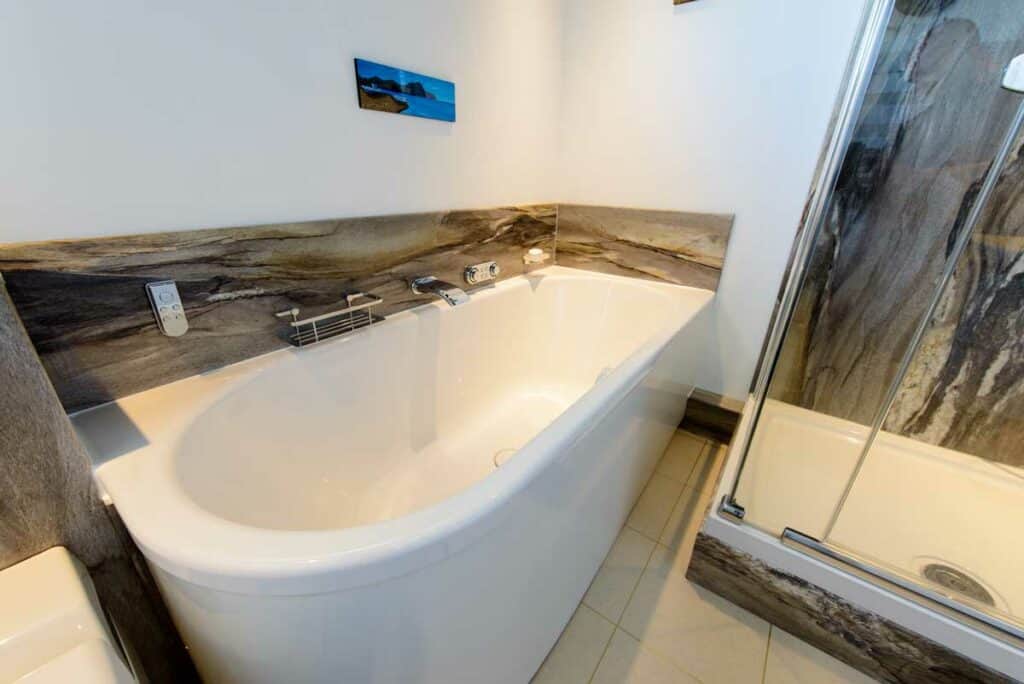 Tips on How to Design a Large Bathroom
Larger bathrooms have so much potential. And it's vital to settle on a focal point for the bathroom. Additionally, you can incorporate two basins into the design, which will come in handy. Also, place them next to one another for a 'his and hers' look, thus making it the focal point. As for colours, you can use dark colours to add some intimacy to the space.
Tips on How to Design a Family Bathroom
In a family bathroom, it's practical to install a double-ended bath so that two toddlers can shower simultaneously. For the same reason, two basins or a twin basin is useful. Also, fitted furniture, such as cupboards and drawers, give you storage space without suffocating the bathroom.
Tips on How to Design a Master En-Suite
It'd help if you outlined the bedroom en-suite with the bed, dressing area, and bathroom. You can select a closed plan bathroom for practical purposes. We usually advise against open baths in bedrooms, to prevent humidity issues but the only exception is if you're designing a huge bedroom.
Will an Extra Bathroom Add Value to Your Home?
Yes, extra bathrooms promote luxury and practicality! According to Direct Line Insurance, it can increase the home value of a three-bedroom, one-bathroom property by more than 20% of the value.
Will You Need Planning Permission for a Bathroom?
Typically, you don't need planning permission, except if the bathroom is part of a new house extension. Also, if your building is listed, you should refer to your local planning authority.
Who Can Fit a Bathroom?
At Roots Kitchens Bedrooms Bathrooms, we're happy to design, supply, and fit your bathrooms. Also, you can check out the services we offer to make up your mind. Additionally, we've inserted pictures of our work, and you have the option of checking out reviews and recommendations.
How Much Does a New Bathroom Cost?
At Roots, it may cost £18,000 to £30,000 or more. That includes everything from supply and fitting to plumbing and electrics.
Conclusion: What You Need to Consider When Designing a Bathroom
Ultimately, you should evaluate your priorities and the needs of everyone who'll be using the bathroom to make the optimal design for you. We hope that you've been able to digest the information in this article, and we're happy to accompany you on this journey!Just call us on 01227751130, or email us via hello@roots.uk. Otherwise, you can fill out our online form, and we'll be in touch!